Our Top 10 Ski Runs In St Anton
Take a look at our guide on the best places to ski and snowboard in St Anton.
You've already booked a short ski break to St Anton and know you've only got a few days to cram in as much of the Arlberg ski area as possible... So, where to ski? Our Ski Sales Specialists have given us a rundown of their top five places to ski in St Anton and beyond, to help you make the most of your short break in Austria. We've included the piste grading and numbers so you can find them on the piste map and get planning your routes.
1. Schindler Spitze down to Stuben (Red 14, Blue 17 - S1)
A firm favourite of skiers and boarders of all abilities - everybody loves a good, long, uninterrupted ski run. This piste starts at 2660m with stunning views at the top of Schindlergrat and descends over 1200m, all the way down to the quaint mountain village of Stuben.
From the Red 14 the run curls around the shoulder of Valluga peak, revealing a breathtaking vista down the valley. This then opens up to the slopes of Blue 17, providing the perfect place for practising smooth carve turns. Finally, S1 winds its way through the bottom of a steep gorge, giving a sense of adventure before ending in Stuben. A beautiful ski run that everyone can enjoy.
2. Rendl Home Run (Red R1)
The last run after a hard day on the slopes can be heaven or hell. Whilst some can be crowded and full of moguls, the Rendl home run is perfect for a last blast before a well-earned beer.
Starting in the late afternoon sun at the top of the Rendl cable car, the R1 piste dives into the trees but remains open enough for some final carve turns at as high a speed as you trust your tired legs to handle. Don't forget to glance up as you go to catch some great views over St Anton from a different perspective.
3. Schonengraben Valley
The name of this stunning valley translates as 'beautiful graves' hinting at the extreme nature of this amazing off-piste route. From the top of the Kapall lift, this tree-lined valley extends all the way down to St Jakob, providing stunning views, hidden powder stashes and tight tree skiing on the way.
On a perfect day this run is a skier's paradise. Do be aware that this route is not to be attempted without proper avalanche safety equipment and a qualified guide, as it has been known to avalanche - hence the foreboding name.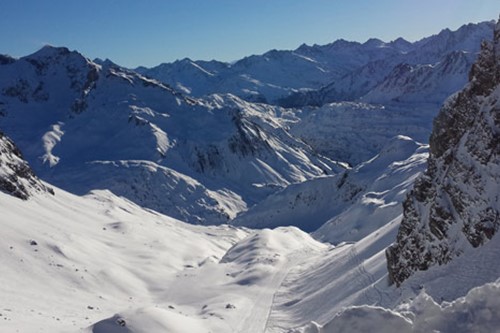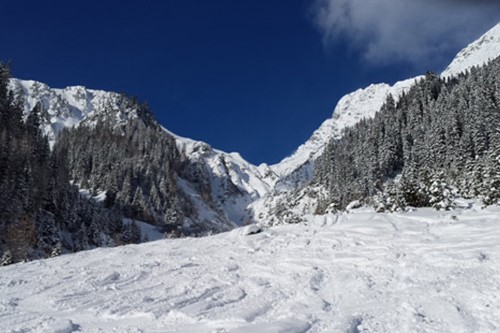 4. Mittelstation to Stuben (Red S2)
Linking Stuben Mittelstation to the village itself, skiing down this twisting red run is like taking on a pisted border-cross course. Hairpin turns and exciting undulations mean there's always something keeping you interested on this run. After a big snowfall, cutting the corners can lead to a blast of powder before returning to the piste. This gem is often overlooked as the crowds return to St Anton from the Mittelstation.
5. Muggengrat- Tali (Red 10 -  Zurs)
There's nothing quite like feeling you have the mountain to yourself and the R10 often feels like your own private piste. As the crowds dash out the top of Zurs on The White Ring route, those who look off the beaten track are well rewarded with a long, open red run that loops around the Hasenfluh peak and into a valley before appearing at one end of Zurs. Boarders beware of the short push at the bottom.
Our favourite ski runs with a view:
If its views you're after, then the next few runs should be right up your street. With less emphasis on the skiing - though they are all still fabulous ski runs - here, we focus on taking it slow and admiring the view. If there's a nice spot to grab a hot chocolate on the way down, even better. Here are our favourite runs to admire the scenery from and arguably the best ski runs in St Anton.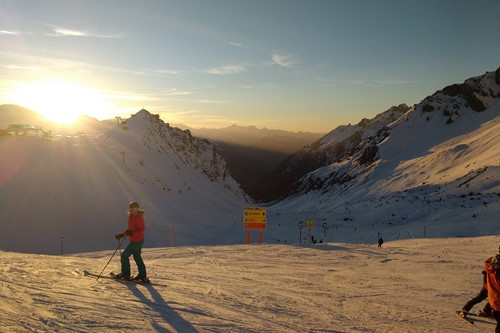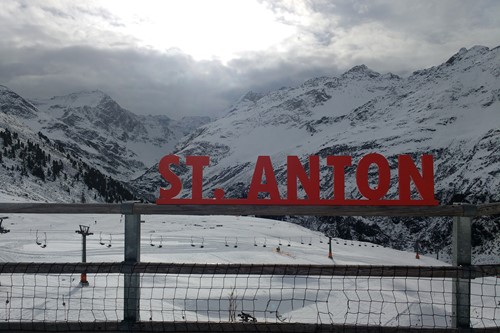 1. Schindler Spitze (Red 14 to Blue 17- S1)
At the top of the Schindlergrat lift at 2660m, start off on Red 14, making your way down to Blue 17 and then on to S1 - this run is a real treat. As you go over the peak, the view opens up and really takes your breath away… A sight that never gets old.
Early morning can be a little busy, but the Blue 17 itself is a lovely wide run with some nice big rollers to fly off. It can get a bit choppy near the bottom, so be careful not to pick up too much speed on your way down. This leads you onto S1, the run down to Stuben, which takes you through a narrow valley and makes for some impressive scenery. This run is a favourite of skiers and boarders alike - you just can't beat a long, uninterrupted ski down.
2. Monzabonsee (Blue 38) - Lech to Zürs
One of the main routes from Lech to Zürs is a breathtaking blue from the top of the Rüfikopf I and II cable cars. Starting at 2362m, the view down the valley towards Zürs is phenomenal, with huge rolling pillows of snow lining the run. This is another long ski down, only interrupted by the Trittalp lift. This run connects on to part of the famous ski route, Der Weiβe Ring, and gives you the opportunity to explore Zurs, Zug and Lech.
3. Fasch / Gstans (Red 37/Blue 36)
Both Red 37 and Blue 36 are lovely runs from the top of Kapall in St Anton. A quick ski down the steep red or the cruisey blue takes you to the Gampen Bar and Restaurant. This place had a €12 million facelift fairly recently and is now a nice pit stop spot. Perfect for resting your weary legs and grabbing a quick bite to eat.
From 2330m at the Kapall Restaurant, or from 1850m on the Gampen terrace, the views are stunning and you can see for miles, right down the valley towards St Jakob and Pettneu.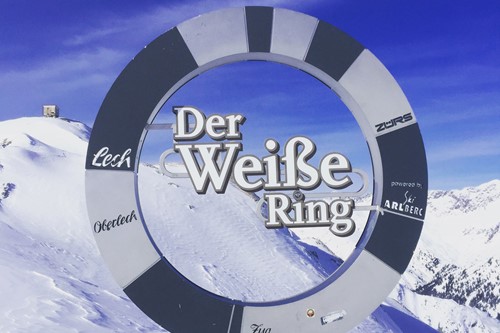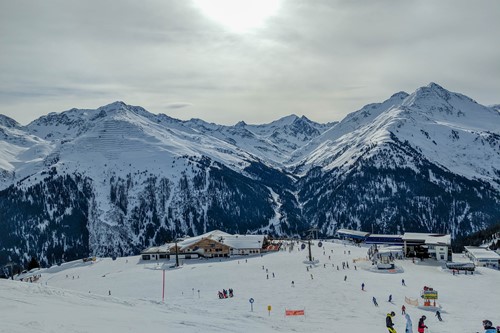 4. Gampberg to Rendl Talabfahrt (Red R2 to R1)
Another of our favourites is the red run (R2) from the top of the Gampberg lift at 2400m. This connects to the Rendl home run (R1). This run could be the perfect way to end to your day; a wide, flat piste takes you down to Rendl beach where you can grab a quick drink before tackling the last leg home.
Doing this means you avoid the mad dash down into town on the other side of the mountain. Plus, you'll see the best views of St Anton from Rendl. Boarders beware: there are a few flat parts on the way down.
5. Albona (Red S5) - Stuben
A big snowfall transforms the runs around Stuben and the Red S5 at the top of the Albona II lift is fantastic in these conditions. This steep wide red takes you all the way down to Alp Rauz (the bus stop in Stuben) and the Valfagehr lift to get you back to St Anton.
From the top of this run, you'll see the Blue 17 you skied earlier across the valley. You can also see right down the valley towards Klösterle and Sonnenkopf. It's a wonderful place to be when the sun is just shining over the tips of the mountain; at the end of the day, the view is incredible.
So, that was our pick of the best ski runs in St Anton. Oh, and we know the Red 14 to Blue 17 route made it onto both lists, but it is a pretty spectacular slope.
This guide should hopefully be enough to keep you occupied during your short ski break and, if you don't get to do all of it, you'll just have to come back for another weekend.
Our favourite spots from quieter skiing:
Rendl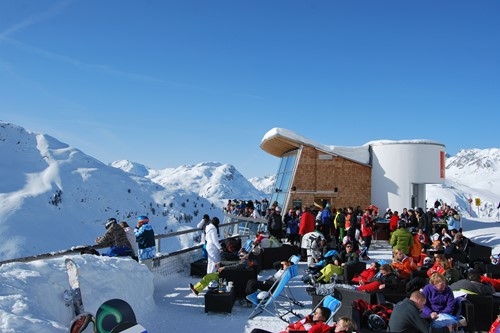 We can't figure out why this area is as quiet as it is as it's only separated from the main ski area by a 100 metre walk from the Galzigbahn. We're not complaining though, because the Rendl area is full of lovely red and blue runs. It also benefits from the last of the afternoon's sun, so it's perfect for a few post-lunch ski hours. Pop into Rendl beach for sunset drinks before heading back to town either on the leg achingly long red or hop back on the gondola.
Zurs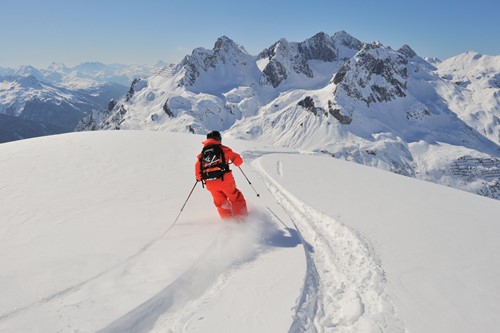 Typically a stopping point between St Anton and Lech, the bar at the bottom of Red 134 gets pretty busy as it's amazing in the sunshine. However, if you head into the main Zurs area it's eerily quiet. Most skiers simply ski through or around Zurs to get to and from Lech and St Anton, but the handful of pistes here are a real joy. There's also some nice side country here to test out after fresh snowfall.
Sonnenkopf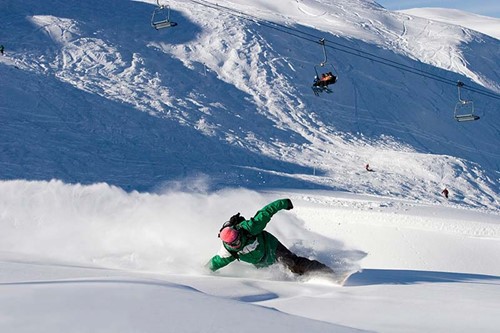 Sonnenkopf isn't actually linked to the ski area - you'll have to catch the bus to get to Sonnenkopf - but it's worth the tiny amount of hassle. Just make sure you avoid the day where busloads of the tour operator guests head here. The area is great for snowboarders and there's plenty of terrain for a full day's skiing.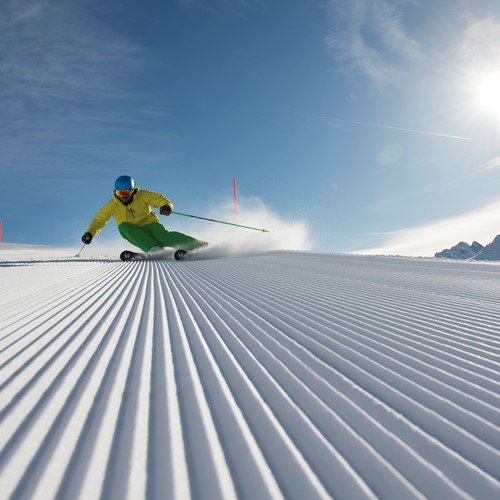 About the Arlberg ski area:
The Arlberg region holds the bragging rights of being the largest lift-linked ski area in Austria. The area boasts a total of 305kms of downhill slope, connected by 87 lifts. Following a €45 million investment a few years back, the loop between Stuben, Alpe Rauz and Zurs is now closed, interlinked by a series of brand new cableways. This eradicated the need to use bus services as all resorts; St Anton, St Christoph, Stuben, Zürs, Lech, Oberlech, Schröcken, and Warth are now fully accessible on skis.
This has granted even greater freedom to skiers visiting St. Anton. The Flexenbahn provides an easy, accessible route from Alpe Rauz over into Zurs. Skiing to Lech from St Anton and completing the 'White Circle' ski route has proven to be a firm favourite on clear weather days following the new linkages.
Lech boasts great shopping, fine dining and bars with stunning views. Stuben has also been transformed by Albonbahn II, a new lift that allows access to the summit of the Stuben ski area without having to head down to the base of the valley. Its sweeping red and blue runs have proven a huge draw, whatever the conditions. The interwoven resorts of the Arlberg provide endless opportunities to explore and challenge your limits on the slopes.
Top tips for making the most of St Anton's ski area:
Work on your powder legs before you visit. St Anton is a playground of off-piste runs so you don't want to be caught short by getting tired legs midway down. 

Take cash everywhere you go. Austria is much cheaper when it comes to mountainside restaurants and cafes than other countries. You cannot beat currywurst and fries for seven euros but they only take cash in many places. Don't get caught with only plastic in your wallet.

Make sure you stop and enjoy the views. The cafe/self-service restaurant/bar, Gampen Panorama Bar, at Gampen 1850 is an excellent spot for people watching on a sunny day. If you're lucky, you'll snap up a table at the terrace edge, where you'll be able to sip a cold beer while watching skiers and snowboarders make their way down Blue 26. Get there a little before lunchtime or later in the afternoon for the best view opportunities.
Looking to plan a short ski break or ski weekend to St Anton?
Our Ski Sales Specialists are on hand to help you organise every aspect of your trip. We specialise in tailor made packages and ski breaks outside of the usual Saturday - Saturday format and offer three flexiski operated chalets and a selection of hotels in St Anton.
If you'd like to learn more or want some help putting together a package just give us a call on 01962 587777.