The 9 Best Ski Resorts In Austria
If a picturesque village, wide slopes, lively après and a contagiously friendly atmosphere is what you look for in a ski break then skiing in Austria will tick all of your boxes. Less glitz and glamour than the big French and Swiss resorts, Austria has plenty of old-world charm with wooded or wide open slopes linking quaint mountain villages in and amongst some spectacular scenery.
From putting your feet up around roaring fires in a rustic setting to getting up on the tables in your ski boots dancing the post-ski hours away. Austria is famed for lively but friendly ski-boot clad après straight off the slopes before heading back to your chalet/hotel for dinner. Wellness is a major aspect of Austrian skiing as well, most accommodation options will have saunas and steam rooms and don't be surprised if clothing is optional (towels can be worn, however), a great way to unwind after a day on the mountains.
Many of the resorts have grass lined lower slopes meaning that despite the lower altitude they need a lot less snow coverage to be wonderful to ski on and with heavy investment over the past few decades almost all resorts have extensive snowmaking facilities. Not to mention the numerous glaciers such as the Hintertux or Kitzsteinhorn making early and late season snow sure skiing very much an Austrian thing.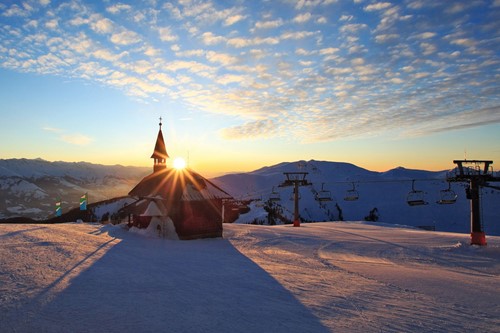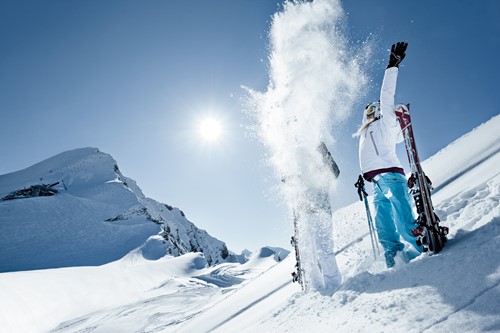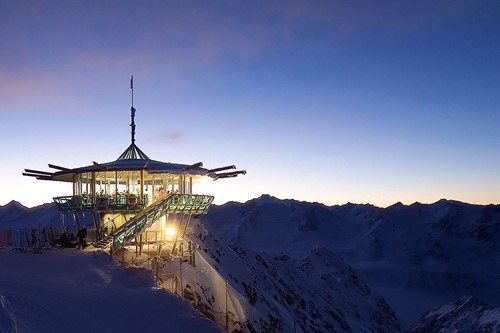 Ski break durations
Flexiski are tailor-made ski specialists, meaning we can find you a ski break for any duration and any dates (in winter that is). This doesn't just mean short breaks and ski weekends but also week-long stays, especially if you're looking to travel outside the traditional Saturday to Saturday ski holiday. We're here to help with anything you can't find from the 'off-the-shelf' ski operators.
Here's where to ski in Austria by category:
Best ski resort for beginners
Beginner skiers don't need endless kilometres of piste to explore, getting to grips with the slopes on a friendly hill and a welcoming town are much higher on the priority list. St Johann has some great beginner areas at the base of the main lifts and you can progress to more-or-less the whole mountain with 45% of the slopes being blue slopes. The pistes generally cruise from top to bottom of the mountain with wide open runs perfect for finding your ski legs.
The year-round town has a great atmosphere and many more shops, bars and restaurants than you'd expect from a town of its size. And the après scene is enjoyably lively with bars cropping up at the bottom of the slopes. SkiStar now owns the resort and are known for family-friendly skiing, you may even catch the mascot, Valle the snowman, out on the slopes with his ski instructor friends.
If you have intermediate or advanced skiers in your group then Kitzbuhel is a 10 minute train or taxi away, you'll need a different lift pass but it's well worth exploring for a day or simply heading over for lunch to explore the pastel coloured town.
Where to stay - 4* Alpenhotel Kaiserfels is right at the bottom of the slopes with a brand new gondola outside and its own après hut to boot
Alternatives - Obergurgl has some great mellow slopes and a ski in, ski out high altitude resort base
Key facts:
Resort height - 670m
Highest point - 1,604m
Ski area - 43km
Closest airport - Salzburg
Transfer time - 1 hour 15 minutes
3 day lift pass - £121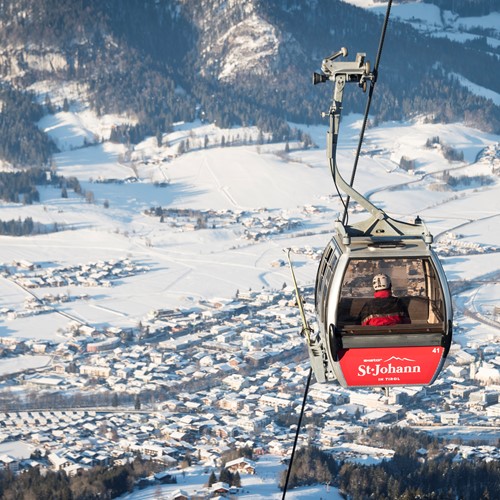 Best ski resort
 

for intermediates

Mayrhofen has 136km of largely intermediate runs, 89% blue and red in fact and then there's a further 350km in the wider area including the Hintertux Glacier with its spectacular views on a blue sky day in particular. It's an area you can really explore and move on through the various sections should you fancy a change. 

The slopes may be a little steeper in the Penken ski area than your usual blues and reds but they are great to really push yourself and improve your skiing technique. The slopes above the tree line are wide and open and if you catch them after fresh snowfall overnight you may even have a soft dusting of powder to play with. To top it off the Penken Gondola was updated in 2015/16 along with most of the lifts being very modern, queues have diminished meaning you get more time on the mountain.

If you do fancy a couple of jumps then the terrain parks in Mayrhofen are some of the best in the ski world with the Vans Penken park having its own chairlift, though the kids park maybe more confidence building. Après in Mayrhofen is buzzing along the central street after the party has moved off the mountain.

Where to stay - 4* Hotel Elisabeth for a little luxury. The spa is incredible, there's even underwater music in the pool

Alternatives - Zell am See is a great intermediate mountain with 138km of slopes including the Kitzsteinhorn glacier just up the road
Key facts:
Resort height - 630m
Highest point - 3,250m
Ski area - 136km
Closest airport - Innsbruck
Transfer time - 1 hour
3 day lift pass - £146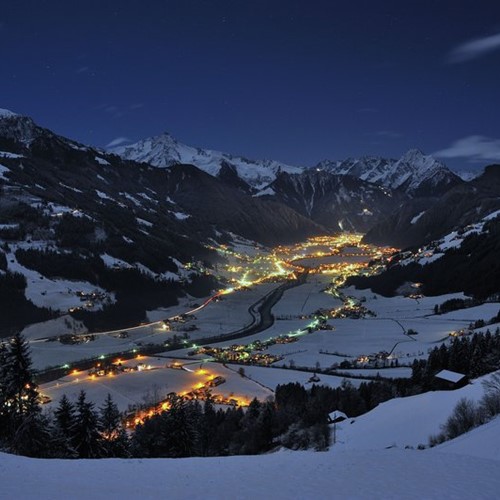 Best ski resort
 

for experienced skiers

With some of the all-around toughest slopes in Austria, St Anton certainly makes for a challenging ski destination and that's before you get to the raucous après scene. The largest lift-linked ski area in Austria with 305km of piste and countless more off-piste routes. The main section of St Anton is above the Gampen and Galzig lifts from the latter you can access the link across to Zurs and Lech - though the route is perhaps the most bottle-necked part of the ski area - we still preferred to take the bus across. 

The Valluga lift goes up to the highest point in St Anton at 2,811m through the last part of the gondola is for off-piste of viewpoints only and you will need a guide to attempt any of it. But the routes down to Zurs from here are spectacular for any expert skier or boarder looking for off-piste experience. Over the other side of town is the much quieter and mellow Rendl ski area with the Rendl Beach Park as well as plenty of blues and reds for some sunny afternoon cruising. 

You'll want to pick your après spot and get there well before the last lift closes, the main jaunts are pumping all afternoon, expect dancing on every table, waiters carrying trays of beers that look impossible to carry and a friendly atmosphere. The Base Camp at the foot of the Gampen chairlift is our pick as you come off the slopes with live music and beers flowing in the umbrella bar.

Where to stay - Amalien Haus, chalet board and cosy atmosphere in the town centre, the best chalet location in St Anton hands down

Alternatives - Ischgl has some challenging terrain and 238km of it
Key facts:
Resort height - 1,305m
Highest point - 2,650m
Ski area - 340km
Closest airport - Innsbruck
Transfer time - 1 hour
3 day lift pass - £152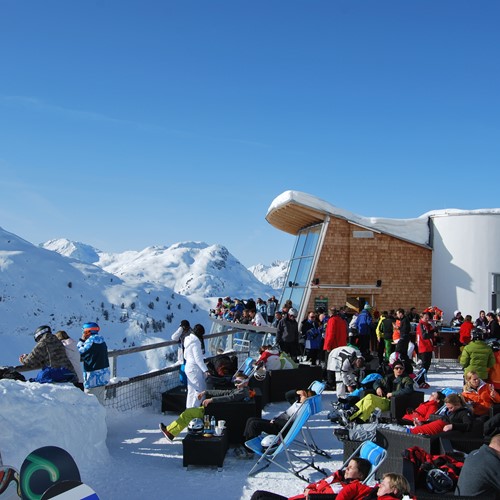 Best ski resort for ski weekends
Having a huge lake ringed by snow-covered mountains is not a usual sight for a ski resort and it makes your holiday snaps a cut above. The ski slopes are across the horseshoe-shaped mountain facing the lake full of cruisy runs and fabulous tree-lined skiing. And for snow-security, there's the Kitzsteinhorn glacier included on the lift pass, a short bus ride away, just in case the snow is looking light for your early or late season ski foray.
The resort is an hour and a half transfer from Salzburg airport with plenty of flights from the UK. The short transfer means you should be able to get a full day on the mountain on your last day - if you opt for a late flight that is - making the most of your limited time in the mountains.
To top off the beautiful scenery, cruisy skiing and short transfer, the town itself is buzzing at the weekends. Right on the lake, you have a diverse selection of bars and restaurants from low key gin houses to boisterous après and live music and there are regular light shows on the lake itself once it gets dark. The large town is perfect if you have a couple of non-skiers in your party, with plenty of distractions to occupy them whilst you're out on the slopes.
Where to stay - Hotel Steinerwirt, a boutique hotel in the centre of Zell
Alternatives - Anywhere we feature is great for ski weekends as that's what we aim for but Bad Hofgastein is particularly favourable at the moment with a 1 hour 10 minute transfer and some great value stays
Key facts:
Resort height - 755m
Highest point - 3,030m
Ski area - 138km
Closest airport - Salzburg
Transfer time - 1 hour 30 minutes
3 day lift pass - £150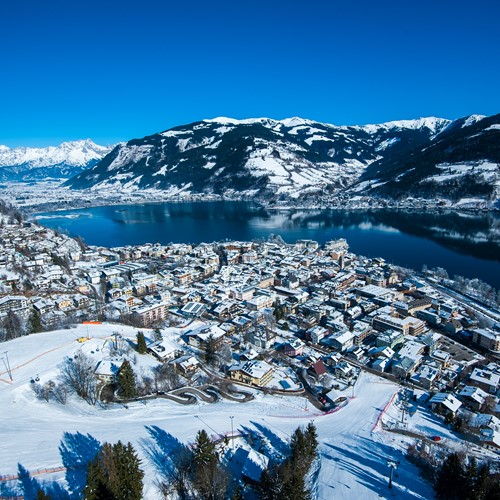 Best ski resort for value
Austria's great value in general and it's possible to find some fantastic deals if you sacrifice an extensive ski area or stay away from the slopes. But we're looking at value without the need for sacrifice. Quiet for an Austrian resort, Bad Hofgastein is a very different ski experience to the big-hitting resorts such as St Anton or Ischgl: A quiet spa town with an historic centre, once wealthy and full of mine owners, now the pedestrianised streets are packed with cosy cafés, bars and restaurant punctuated by fountains full of thermal waters from the springs.
This is a slow pace ski destination massively overlooked and as such hugely underpriced. There's 200km of slopes in the local area, much of it red and blue pistes so perfect for intermediate skiers. Above the tree line, the slopes are wide and open with heaps of tree skiing on the lower reaches. And if that's not enough when you book a two day or more lift pass you get a day in one of the other close by resorts with complimentary bus services and a total of 760km of piste to explore.
The extensive pistes, thermal spas, short transfer and rock-bottom prices certainly make Bad Hofgastein an enticing option. And the après does get lively at the base of the mountain straight off the slopes, however, the resort is all about the thermal waters. The Alpentherme Spa has 36,000sqm of sauna and relaxation areas and every hotel has great wellness facilities. Time to sit back and relax into a slow pace ski holiday.
Where to stay - 4* Hotel Das Alpenhaus for a central location and extensive spa and wellness facilities
Alternatives - Kaprun has some fantastic hotels at a fraction of the cost they'd be elsewhere, great value for money as well as high altitude glacial skiing
Key facts:
Resort height - 860m
Highest point - 2,685m
Ski area - 86km
Closest airport - Salzburg
Transfer time - 1 hour 10 minutes
3 day lift pass - £157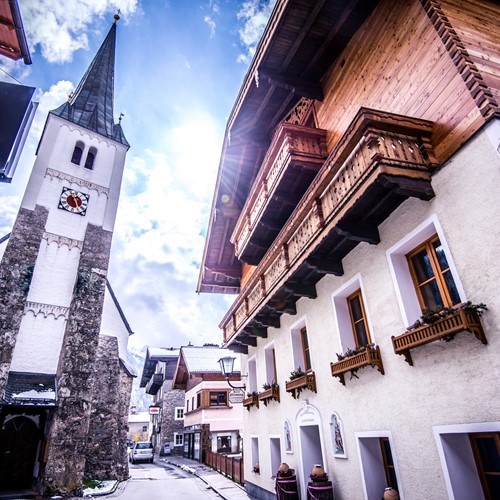 Best ski resort for snow reliability (early or late season skiing)
Snow reliability is key for early and late season skiing so we've looked at numerous resorts a believe Kaprun offers a range of skiing and great value too that makes it our top pick for snow reliability. The town itself is dominated by the church and 13th-century castle along the river with plenty of cafés, shops and restaurants lining the main plaza. The local Maiskogel ski area is great for beginners or low visibility days as it's almost entirely within the trees, however, the real snow reliability lies on the Kitzsteinhorn glacier. High altitude, reaching 3,029m, skiing and some great off-piste routes if you're looking to hire a guide.
The Gipfelwelt 3000 commands some stunning views along with a panoramic restaurant, a walk right through the mountain in a mini-museum style and even a cinema showing the history of the region. It's a great place to meet with any non-skiers in the party for lunch as well as it's easily accessible for all. You can technically ski 365 days a year on the glacier but the majority of the skiing opens in earnest in October giving an incredibly long ski season.
One of the best reasons we rate Kaprun so highly is the fact that, yes you have the almost guaranteed glacial skiing, but you also have the Schmittenhohe (Zell am See) a ten minute bus ride down the road and included on the lift pass. So should the early or late season snow be particularly good that year you have another vast, varied and very different ski area to explore at no additional cost, 138km in total.
Where to stay - 4* Hotel Das Alpenhaus with its 1000sqm spa area
Alternatives - Obergurgl has good high altitude slopes and a resort base at 1.930m giving the ski area a very long and reliable ski season
Key facts:
Resort height - 785m
Highest point - 3,029m
Ski area - 138km
Closest airport - Salzburg
Transfer time - 1 hour 40 minutes
3 day lift pass - £146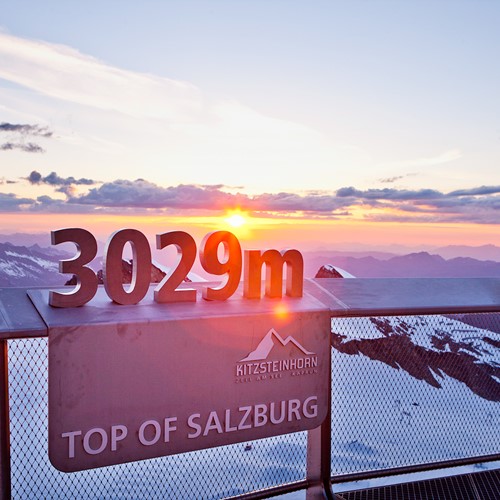 Best ski resort for an après party
Ischgl is often overlooked in favour of its more famous neighbour in St Anton, we've come to realise Ischgl has possibly the best après scene in the Alps along with a whopping 238km of piste, fantastic restaurants and some seriously swanky accommodation. generally around 10 years older than the St Anton crowd, yet it doesn't stop anyone from climbing the tables and partying like their life depends on it.
Best known for its opening and closing, top of the mountain, festivals each season attracting headliners such as Elton John, Robbie Williams, Bob Dylan and Kylie Minogue along with thousands of revellers to the mountains. Ischgl brought music to the mountains and many resorts have since tried to replicate their success.
But, it's not just the mountain festivals that give the resort its party status, the après kicks off on the mountain at around 3:30pm and carries on down in town. By about 6pm the crowds spilling out of the bars in Ischgl's centre have merged together to form a booze flowing, merry throng. The Trofana Alm is the big hitter, be prepared to be closer than elbow to elbow in this chalet come barn with a Valhalla style first-floor balcony and oompah music blaring out as planks of schnapps drift by overhead. The champagne bar is the upmarket neighbour or Niki's Stadl is unique for its entertainment and so rowdy with song and dance it's hard to tear yourself away.
Where to stay - 5* Hotel Trofana Royal for old-world sophistication and the champagne après bar next door
Alternatives - St Anton and Mayrhofen are the best places to go for that very Austrian ski boot wearing table dancing straight off the slopes, friendly après
Key facts:
Resort height - 1,400m
Highest point - 2,864m
Ski area - 238km
Closest airport - Innsbruck
Transfer time - 1 hour 30 minutes
3 day lift pass - £138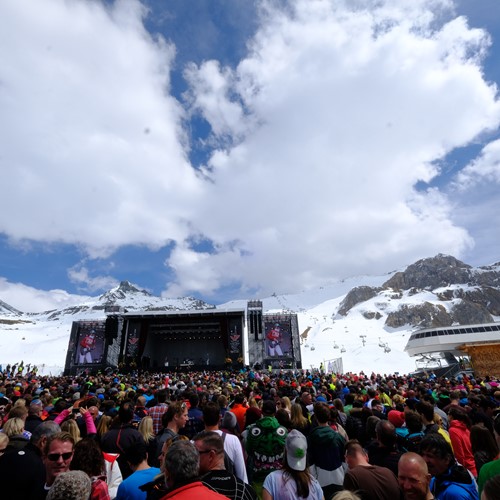 Best for charm and scenery
The centre of Kitzbuhel is arguably the most charming ski town in Europe. Fortified walls ring the pedestrianised, medieval centre teeming with beauty. The buildings are a rainbow of pastels and the craggy Wilder Kaiser Mountains form the stunning backdrop. A resort with some serious mountain heritage and it does command a price tag for the privilege.
The ski area is famed for the Hahnenkamm downhill race that comes to the resort at the end of January each year. The Ski World Cup race is one of the most challenging on the circuit, with an 85 degree pitch in places, but besides this one gruelling piste, Kitzbuhel is firmly an intermediate resort. Wonderfully groomed pistes, plenty of tree lined runs and the potential to cover some huge distances. 
There are around 50 mountain huts to choose from for truly delicious mountain side lunches and back in town, there are countless options for high-quality food and super stylish hotels. The après scene is buzzing in a slightly more cosmopolitan way that the likes of St Anton or Ischgl. Kicking off on the sunset runs the Streifalm is always lively and off the mountain, there's a huge choice of bars and clubs that keep the party going until the early hours. 
Where to stay - 4* Hotel Kitzhof, it doesn't get more stylish than the Kitzhof
Alternatives - Zell am See with its horseshoe-shaped mountain and lakeside location ramps up the beauty aspect and the town is surprisingly lively with plenty going on
Key facts:
Resort height - 760m
Highest point - 2,000m
Ski area - 179km
Closest airport - Innsbruck/Salzburg
Transfer time - 1 hour 30 minutes
3 day lift pass - £120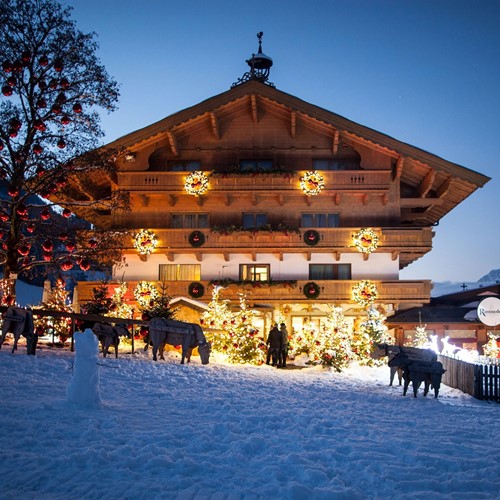 Best for families
Family skiing is at its best when everything is easy. From a short transfer to slopes that run down to the snow-covered village, good snow reliability so you can ski pre-Christmas as well as after Easter and a low-risk environment perfect for a piece of mind.
Just an hour and a half from Innsbruck airport, Obergurgl has one of the highest village bases in Austria at 1,930m with slopes up to a lofty 3,080m. The resort is firmly in the family-friendly bracket with one of the highest returning customer rates in the Alps - they must be doing something very right indeed. You can ski back to the village with most hotels being slopeside or very close to it, so there's no lugging the family skis miles to the pistes. 
It's a mellow, low-key atmosphere with enough going on without being rowdy. Slope wise, there are some great beginner areas at either end of the village and again up in Hochgurgl with plenty of blues to progress to across the entire resort. The slopes aren't particularly challenging so best suited for those wanting to take it easy rather than blasting around the pistes all day. But being one of the most popular Austrian resorts on the English market it seems that's a popular style of skiing.
Where to stay - 4* Crystal Lifestyle Hotel with one of the largest saunas we've ever seen and ski in, ski out location
Alternatives - St Johann is a super friendly ski village with an easily navigable 38km ski area, now owned by SkiStar, it's family appeal is only going to grow
Key facts:
Resort height - 1,930m
Highest point - 3,080m
Ski area - 110km
Closest airport - Innsbruck
Transfer time - 1 hour 30 minutes
3 day lift pass - £153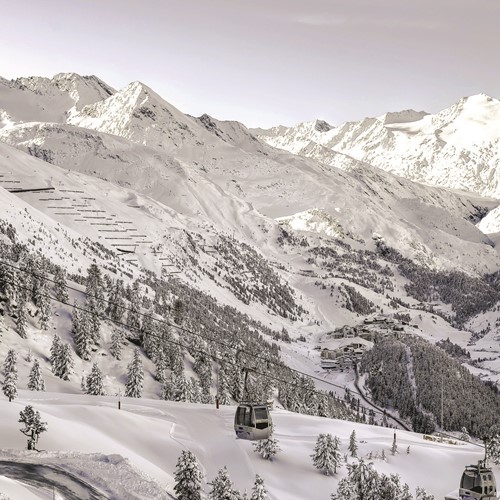 To sum up
Austria is a fantastic country; invariably friendly with a jovial atmosphere without mentioning the price point being far kinder on the pocket than France - in general. The big resorts do get a little pricey but the smaller gems offer great value for money. To get an idea on price, check out our guide pricing pages or give our ski specialists a ring on 01962 587777 and they'll help you find the right option for you.