Where To Eat And Drink In Courmayeur
Food is taken seriously in Courmayeur with lunch and evening meals being as big an event as the skiing itself. It's less about squeezing every minute out on the slopes and more about enjoying your time a little slower with long lunches and mouth-watering dinners to complement the skiing in between meals. 
Showing just how serious Courmayeur takes its food is the Mountain Gourmet Ski Experience in March for 2019 with esteemed guest Tom Kerridge. It's a food and ski bonanza that your taste buds won't soon forget. Plus the Plan Chécrouit cable car that links the village to the slopes is open until 12am all season long, so you can eat and drink at the mountain restaurants in the evenings as well as the days.
Food and drink are definitely not all that Courmayeur has to offer: Close to Geneva airport, Courmayeur is just an hour and a half drive from the airport on the sunny side on Mont Blanc you get great snow and many more days of blue skies than neighbouring shady Chamonix. The skiing is an intermediate haven and if you're into your freeriding, the off-piste is superb and extensive. The town itself is a buzzing cobbled affair with fantastic boutique shopping, authentic cafés and a lively après ski scene, it's hard to find fault. Perhaps the fact you have to take a cable car to the slopes, but even that has been turned into a positive by the fact that you can use it to access numerous mountain restaurants until midnight for dinners more like feasts than lite bites.
It's a ski resort full of local specialities from the Aosta Valley: hearty soups, tasty polenta, gnocchi, risottos, cured meats and cheeses. Fontina is the famous cheese of the region used in all manner of dishes, sauces and even fondue.
Two dishes to look out for:
Carbonade - essentially a very tasty beef stew cooked for hours in red wine and served with piping hot polenta.
Risotto

 

alla

 

Valdostana - Simply a tomato and Parmesan creamy risotto with heaps of Fontina cheese.
Courmayeur restaurants we love
There are so many to choose from, when you look at lists online it would be impossible to sample them all in a ski weekend so we've chosen three of our favourites, a more achievable and less daunting list of restaurants you won't be disappointed with.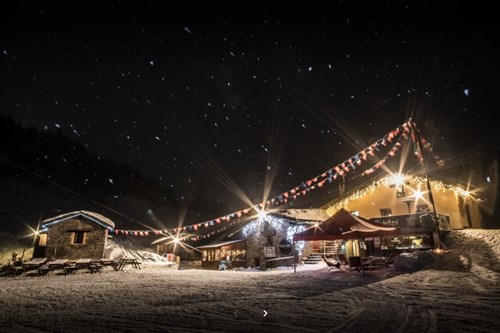 Rifuguo
 

Maison Vieille - On the mountain

It's not just us that like it here, Maison Vieille constantly crops up as one of the best places to eat in Courmayeur and for good reason. If you fancy a little dinner adventure then book in here, ride the (Plan Chércrouit) cable car up the mountain and you'll be met by snowmobiles to take you to your candlelit feasting destination. If you don't love it here we'll be very surprised.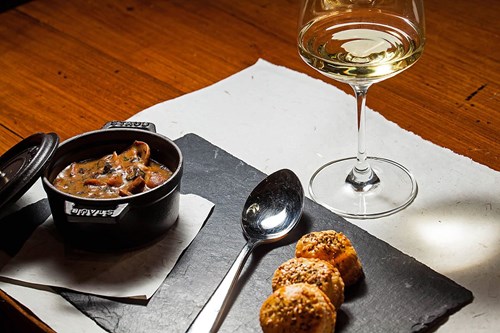 La Chaumière - On the mountain
On the mountain, within walking distance from the cable car so accessible to skiers and non-skiers alike. La Chaumière has a huge terrace with stunning views from which to enjoy some divine local delicacies - the polenta is a dream here - and some traditional Alpine fare as well.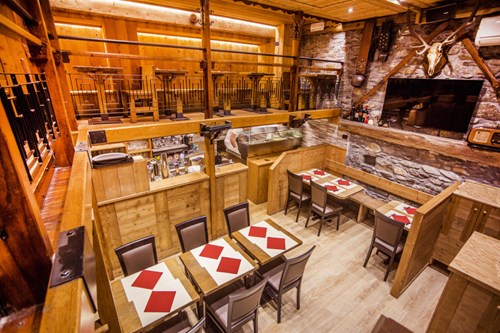 Pizzeria du Tunnel - In town
This is our favourite pizzeria simply for the huge pizzas cooked in a wood-fired oven. It gets very busy so it is worth booking or going outside of the main dinner times. But grab a seat upstairs and you can watch all the goings on below. It's not fancy and certainly not silver service, but who cares you have pizzas as big and tasty as this. Plus local beers to match.
Courmayeur bars and nightlife
Again we're picking three of our favourite watering holes in Courmayeur. All of which happen to be in the main town.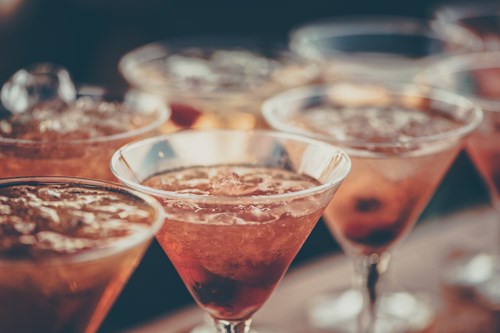 Bar Roma - chic après bar
On the Via Roma (Main Street) this is the place to head to straight off the slopes and carries on all night. Sofas a-plenty in this stylish spot, more Italian chic than your standard oompah blasting après joints. They put on a mean spread of antipasti for aperitivo hour, you can carry on eating as long as you're drinking. Easily enough for a light dinner or spectacular starter and makes the slightly pricey drinks well worth it.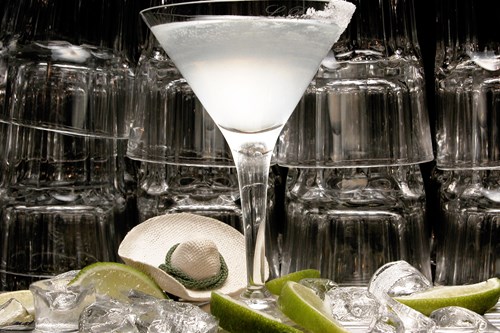 Le Privé - cocktail bar
Again on the main street (Via Roma) there are some steps up to this lovely cocktail bar with a huge drinks menu, amazingly friendly staff and a great atmosphere. A more sophisticated affair than the usual après fare, before dinner with your drinks you also get some pretty tasty anti-pasti/aperitvos/snacks however you wish to call them, they are delicious.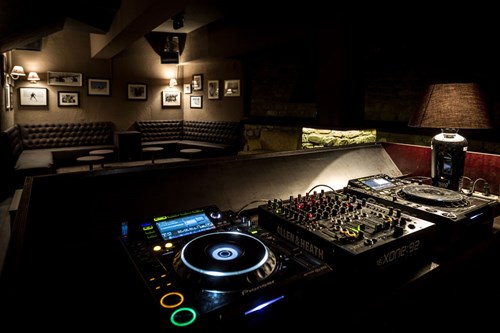 Club Haus 80s - club
Close to the centre of town, Club Haus 80's is the place to head for some late night party tunes. Predictably '80s themed in a very funky way, they have regular themed nights and if you're there for a neon night it's well worth popping along. It's a clubbing concept throughout Europe with a big presence in Milan and Ibiza so the pedigree is certainly there. A mix of cheesy and regular pop tunes to dance away the early hours.
You're in food heaven
There are plenty of other great options throughout the town and on the mountain, but if you are at a loose end trying to find somewhere to eat or drink in Courmayeur, then you won't go wrong in any of these. If you find somewhere else you love let us know. We'd love to hear from you. You can email in here and let us know your favourites.
Interested in Courmayeur for your next ski break? Give our ski specialists a call on 0208 939 0862 and they can create a ski holiday just for you.