Winter Walking In Banff And Lake Louise
Being in the midst of a stunning national park, it's a great experience to step out of the cars and experience nature at a slower pace than on skis. Winter walking gives you access to many of the most stunning spots in the park. From skies painted better than Da Vinci ever could to endless sunsets, tranquil lakes and stunning backdrops.
Go guided or head to well-trodden paths on your own steam, it's up to you.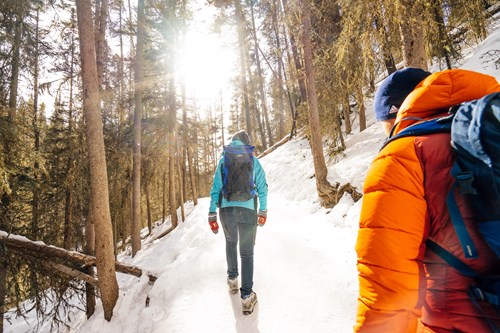 What equipment do I need?
Keeping your feet dry is possibly the most important consideration. So decent hiking boots are a must. Here's a quick list of equipment.
Hiking boots
Decent socks
Gaiters - keep the snow out of your boots keeping your feet warm and dry
Micro-spikes - giving you plenty of grip on ice and compacted snow
Hiking poles - a good option for longer walks to conserve a little leg energy
It's also a good idea to pack some snacks (a chocolate bar or something for a little energy boost)
For a full breakdown take a look at the suitable winter clothing checklist.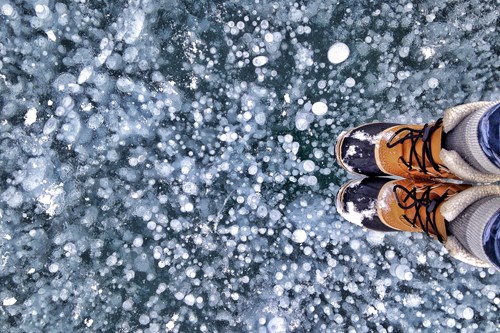 Do I need to bring all the equipment with me?
Absolutely not. You don't need to take up precious luggage space with a load of hiking stuff, let's face it, I don't think I know anyone with a pair of gaiters or ice spikes anyway.
There are plenty of places to rent the bits you need in Banff and Lake Louise. There's plenty of options listed on this guide from Banff and Lake Louise.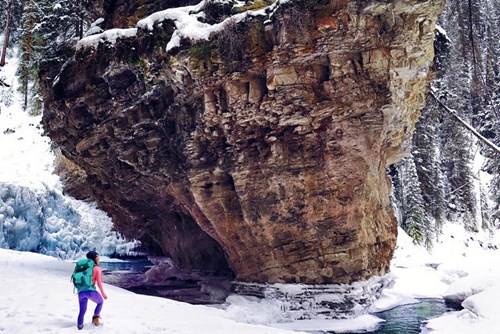 Do I need a guide?
There are plenty of trails you can access without the need for a guide, we would recommend at least a map. However, for a little peace of mind, it's often easier to have a guide who can tell you about the local area and interesting stories whilst you're walking through the landscape.
Just make sure you're responsible for the environment - take nothing and leave nothing essentially, for further guidelines click here.
Johnston Canyon ice walks
One of the area's most famous spots, Johnston Canyon is lined with suspended walkways through caves and over frozen streams and cascading waterfalls. You can walk through here during the day or torch lit at night with the added bonus of stargazing on clear nights.
Distance:
1.1km one way to the lower falls
2.7km one way to the upper falls
Take a virtual tour with this 360 video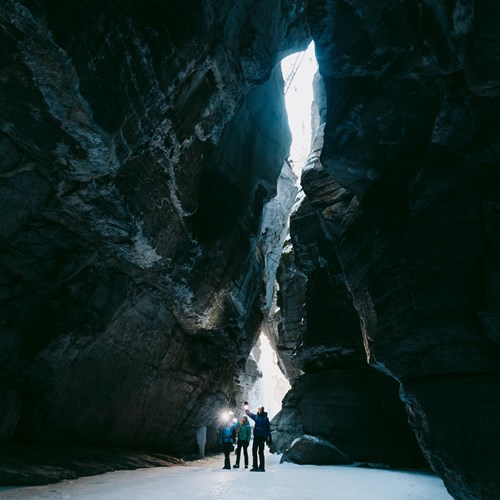 Stargazing
Take a quick drive out to the lakes and stroll around the lakeshore on clear nights to see skies as you've never seen before. The full force of the Milky Way without a drop of light pollution in sight. You'll feel like the universe is at your fingertips.
Head to Vermilion Lakes, Lake Minnewanka or Two Jack Lake. For utter darkness and the best starry skies opt for the Icefields Parkway; Bow Lake is a great shout with easy access.
Take a look at this list of the best selfie spots in Banff National Park if you're looking for some insta-gratification.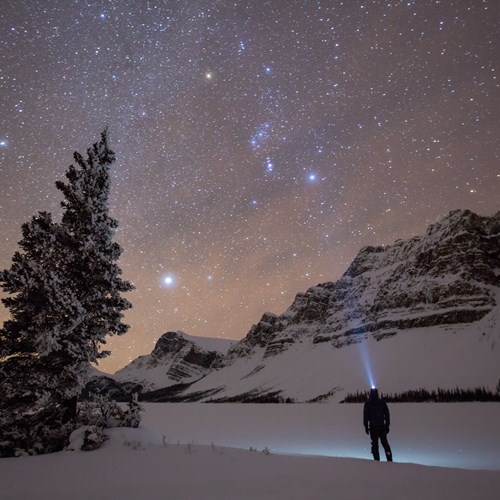 Tunnel Mountain
If you want to get a picture of views over Banff town, then this is the hike for you. It starts off a little steep but mellows out after that - you've been warned. Make your way up Banff's 'Sleeping Buffalo' from the Tunnel Mountain trailhead car parking ('parking lot' if you're Canadian) and you have some pretty awesome views of the surrounding peaks and town from the top.
Distance:
2.4km one way - leave at least a few hours for the round trip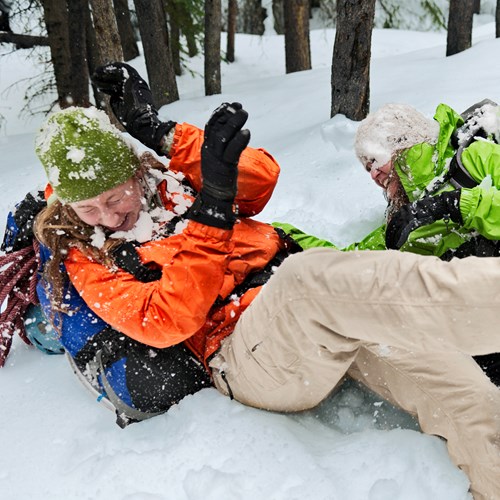 Cave and Basin
Take a walk out to the Cave and Basin from Banff town centre, it's easily walkable from most hotels. This is the original hot spring spot in cavernous caves that brought about the origins of the national park. Take a short tour through the hot springs (bathing is not permitted), gaze at the stars from the pool deck if you come for a lantern tour at night or head out on one of the many surrounding trails during the day.
Watch out for the endangered Banff Springs snail - a tiny little critter (less than 5mm) that resides in these springs and nowhere else in the world.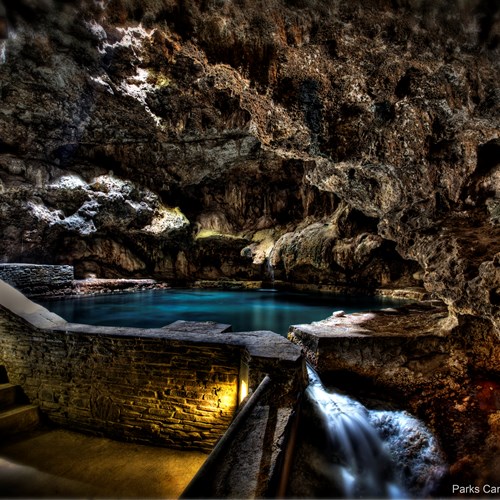 Snowshoeing
An alternative to simply hiking around Banff and Lake Louise, you could try snowshoeing. You've seen it on TV strapping tennis rackets to their feet in 'end of the world' epics, snowshoes are a lot more manageable. They'll feel clumsy when you first try them on, but get out on the snow and everything will make sense. There's no better sound than crunching through fresh snow.
Banff Adventures have some great tours that will pick you up from your hotel and they provide all the specialist equipment as well as hot chocolate. Just wrap up warm and wear your winter boots.
Conclusion:
Getting out for some of these winter walking adventures is well worth the extra effort. Though between the walking and the skiing you may well find yourself in need of a little rest and relaxation. You're in the perfect spot for a hot springs retreat. Take a look at this guide to relaxation from hot springs to spas if you're interested