5 Reasons We're Totally Obsessed With Trysil
You would be forgiven for thinking that Trysil was built solely for the purpose of a good photo op.
There's nowhere quite like Trysil for racking up the likes on your latest Instagram post. Trysil is the largest ski resort in Norway, and arguably one of the most breath-taking European resorts we've ever seen. It sits just 350m above sea level, with a high point of 1,100m. However, despite its relatively low height, Trysil pretty much guarantees snow from early December to late April, due to its northern location. As the mountains aren't particularly steep either, you get full view of the morning sun rising over them - casting the winter wonderland in beautiful sunset colours, your very own live Insta filter. There are so many reasons to fall in love with Trysil, but here are our top 5 reasons why we're obsessed with Trysil and why we think you should be too.
1. The morning view at the top of the T2 lift
We know we're becoming a bit of a broken record going on about the vistas of Trysil, but we honestly can't get enough. There's nothing quite like getting on your morning lift, reaching the top of the run and seeing every colour of the sun glistening off untouched white powder.
2. The tree lined runs
There's something truly magical about skiing between timber giants laden with snow and ice, while the sun peeps through their branches. It's a place to feel at peace whilst you ski. A lot of European ski resorts can be sat so high up that you don't get many of these, with the majority of pistes being above the tree line. Trysil however, has a majority of tree lined runs, plus a few at the mountains peak.
Our recommendation is to start with run Blue 13 to warm up the ski legs. This long cruisy run feels like you're skiing into the horizon. Once you've completed this run a couple of times, and are ready for something a bit more challenging, take Red run 15 down to the bottom of lift T2, and maybe have a go at one of the jumps in the adjoining snow park on the way down.
Another bonus of being this low, is that altitude sickness is a thing of the past. You aren't high enough above the sea level for the air to start to thin out, one of the reasons Trysil is a top resort for families, from the children who are yet to be strapped to skis, to grandma and grandpa.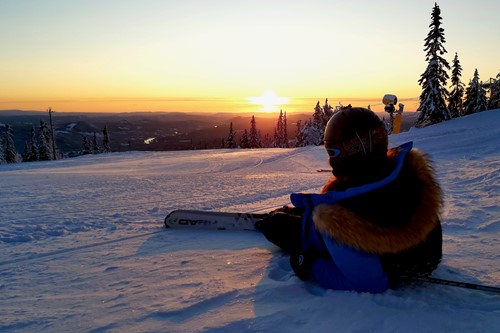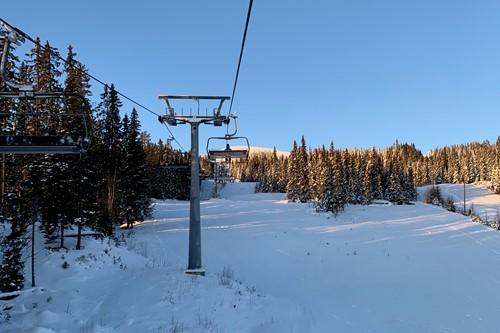 If there is one thing we can all agree on, it's that usually a skiing holiday is not the most relaxing break, but we know it's worth it. There's nothing like the fresh mountain air blowing on your face, feeling the thighs burning as you beat your own personal best.
In Trysil, you get the best of both worlds. A hard day ski with the satisfaction of knowing you earned your dinner, and an evening trip to the Radisson Blu Resorts Alpine Spa for a massage, facial, or pretty much anything in between. We recommend you book their new Mana Lomi massage, a Hawaiian technique that will get out any kinks picked up from the day's ski.
4. The local delicacy
By this, we mean reindeer. A classic dish out in Norway but uncommon in the UK, this dish is more delicious than you can imagine. It tastes like a cross between beef and duck, this hearty meal will warm your stomach and fill you up for the evening. We recommend booking a table at Brasserie T in the Radisson Blu resort, who offer reindeer along with plenty of other gorgeous a la carte options, including duck and grouse.
5. Pretty much everything in between
There's almost too much to reel off in a list of five reasons we love Trysil. We could talk about all of the restaurants you have to dine in, such as La Piazza, Sindre Stua and Kveik restaurant in the Trysil Hotel.
We could talk about the friendly locals, and how every one of them has a welcoming smile to give, and a friendly tip to share with you. It helps that everyone there speaks absolutely perfect English, so you don't have to attempt to pronounce words containing letters such as 'Ø', 'Å', and my personal favourite, 'Æ'.
We could talk about the nature of Norway, about how the sun only comes above the horizon for a few hours each day, so you feel like you're skiing in a sunset. Or about the wildlife you are likely to see, such as reindeer, elk and if you're very lucky, lynx (don't worry, they don't like to get too close). 
We could easily talk about the appeal of Trysil, and share our experiences with you for hours. But why read about it, when you could live it?