Short Ski Breaks Flying From Belfast
Want a few days skiing and travelling from Belfast, here's everything you need to know. Where can you fly to from Belfast? Which are the best short break ski resorts to head to? Can I get to the mountains from Belfast on any day of the week? Are ski weekends possible when flying from Belfast?
What are the flight routes from Belfast?
Major international airports:
to

 

Geneva

 

- Saturdays and Sundays only
to Venice

 

- direct flights on Mondays and Fridays (though only in February and March, no flights in December or January)
to

 

Zurich

 

- no direct flights
to Munich

 

- no direct flights
Smaller regional airports*
to

 

Salzburg

 

- Saturday and Sunday direct flights plus some Thursdays throughout winter - 19 & 26 December, 2 January, 13 & 20 February)
to Lyon - Saturdays only
to

 

Innsbruck

 

- no direct flights
to Chambery

 

- no direct flights
to Grenoble

 

- no direct flights
to Oslo

 

- no direct flights
to Turin

 

- no direct flights
Ski weekends flying from Belfast
Our entire ski programme is open to indirect flights from Belfast flying via London or other major European cities. However, if you're looking for direct flights, which, let's face it are ideal, then you are quite restricted in short ski break options when flying from Belfast.
Flying into Venice
Venice is a good option from February 2020 onward, perfect for a Friday to Monday ski weekend in Cortina or Selva Val Gardena (Italy).
Flying into Salzburg
Salzburg can be a good option for a Thursday to Sunday break though only for five weekends for the 2019-2020 winter season.
What does this mean for short ski breaks from Belfast?
In a nut shell, it's rather tricky to grab a short ski break or ski weekend if you're set on direct flights out of Belfast. 
Italian skiing around the Sella Ronda is your best bet, a fantastic area with 1,200km on the lift pass to explore. Selva Val Gardena would be your gateway into the Dolomiti Superski area and it's well worth a visit. One of our favourite ski resorts in Europe in fact; brilliant skiing, stunning scenery and delicious food both on and off the mountain.
Which ski resorts are best for a short ski break or ski weekend when flying from Belfast?
Belfast is Northern Irelands busiest airport and the second busiest on the island of Ireland after Dublin. Even so, the flights to airports within striking range of ski resorts are limited. If you are looking to ski for six or seven days then you have all the resorts around Geneva at your fingertips but if you only want a few days on the slopes you have ski resorts near Venice or Salzburg to tickle your fancy.
A pre-Christmas ski weekend:
We've talked about Venice above so now looking at Salzburg you have a few more options but more restricted dates. Interestingly there's the pre-Christmas weekend flying out on Thursday 19th December 2019 you could have a cheeky three night ski weekend and fly back Sunday 22nd December in time for Christmas festivities at home. A few days in Zell am See beside the lake will get you into the Christmas spirit.
Skiing on the first weekend of 2020:
In addition to December, the first weekend of January could be perfect to kick off the new year with a little snow fix. Again a Thursday to Sunday affair flying into Salzburg from the 2nd January. I'm thinking Bad Hofgastein could be perfect for you to sink into the natural healing thermal waters after your days on the mountain.
Half term ski weekends:
The next available weekend flights into Salzburg aren't until mid-February with Thursday flights on the 13th and 20th February. These dates fall into the school holidays so it might be prudent to look outside the bigger name resorts and opt for somewhere that doesn't get overly crowded. St Johann could be the perfect resort for these weekends and you have Kitzbuhel 10 minutes up the train line if you fancy a day over there.
Here are our top picks for skiing from Belfast: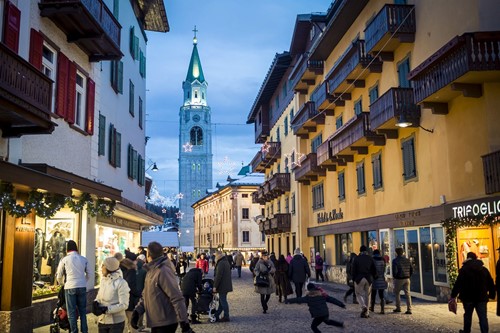 Cortina - Italy
Best for - mountain food and looking good, Cortina is where fashion starts in Italy and you have to have good food with that.
Fly into Venice - 2 hour transfer to resort (private transfer or car hire).
Stunning scenery, we haven't found a ski area quite as beautiful as here
High fashion town with seemingly endless shopping (and quiet slopes as a result)
Great wine bars in particular, set just back from the high street
Ski area split in two, either side of the town
95% of pistes are covered by snow cannons, all but guaranteeing snow
A great destination for food and long lazy lunches. There are 44 mountain huts/restaurants
Ski area - 120km
Highest point - 2,930m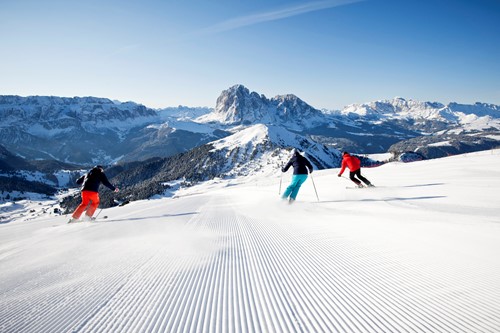 Selva Val Gardena - Italy
Best for - skiing with a real sense of travelling somewhere. There's so many areas to head to and fully explore.
Fly into Venice - 3 hour 30 minute transfer to resort (private transfer or car hire).
It's impossible to miss the sheer scale and epicness
Huge limestone mountains tinged pink at dusk and dawn
Sella Ronda ski circuit; a huge circular ski route around a monolith with plenty of interesting off-shoots along the way (26km of skiing)
Austrian heritage which comes across in the mouth watering food
Fantastic varied skiing for all levels of ability
Ski area - 433km
Highest point - 3,270m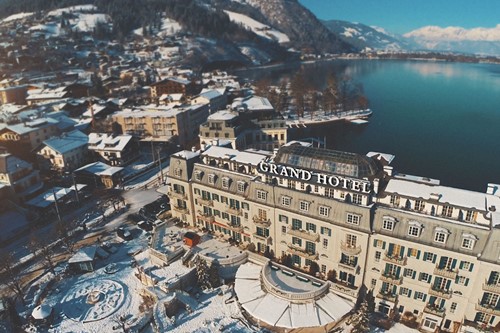 Zell am See - Austria
Best for - buzzing town and an interesting ski area with a huge lake as the backdrop.
Fly into Salzburg - 1 hour 20 minute transfer to resort (private and shared transfer, trains or car hire).
Horse shoe shaped mountain and photo friendly lake
Cobbled town centre on the lakeside with a lively atmosphere
Plenty of tree lined slopes on the lower reaches
Great intermediate skiing terrain
Glacier just up the road if you fancy some high altitude skiing
Year round town with plenty of non-ski activities including a local ice hockey team
Ski area - 138km
Highest point - 3,030m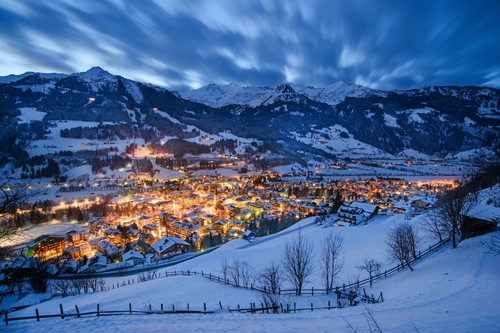 Bad Hofgastein - Austria
Best for - slow paced ski holiday, soak in the natural thermal waters each evening.
Fly into Salzburg - 1 hour 10 minute transfer to resort (private and shared transfers or car hire).
Wide cruisey red runs, perfect for confident intermediate skiers
Pedestrianised village packed with cosy cafés, bars and restaurants
Plenty of off-piste opportunities if you hire a guide
Exceptional mountain spas with natural thermal waters
Quiet après scene, it's all about the spas
Lockers at the gondola to store gear so you don't have to walk around in ski boots
Ski area - 86km local area and 200km in the valley
Highest point - 2,685m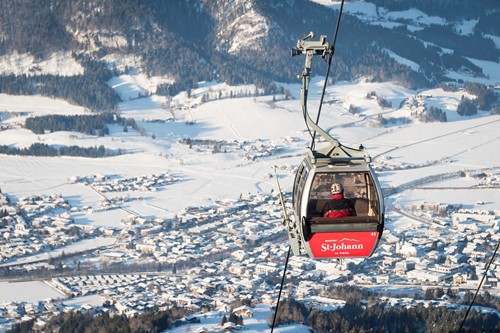 St Johann - Austria
Best for - friendliness; friendly slopes, friendly people, friendly après ski, it's a friendly affair.
Fly into Salzburg - 1 hour 15 minute transfer to resort (private and shared transfers, train or car hire).
Year round lively town with 8,500 permanent residents
Medieval town centre, cobbled squares and buzzing atmosphere
Decent umbrella bars on the slopes and 20 mountain huts
Beginner and intermediate friendly skiing with peak to town cruising
North facing slopes with 90% snow cannon cover. At the end of two valleys the resort gets far more now than it deserves
Ski area - 43km
Highest point - 1,604km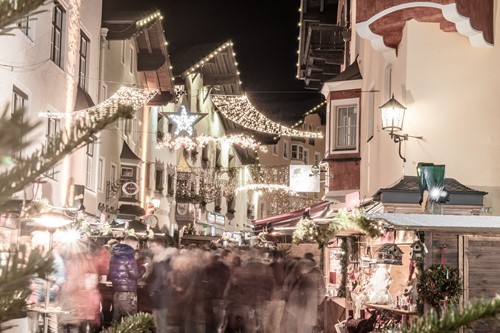 Kitzbuhel - Austria
Best for - with pastel coloured buildings lining the cobbled streets this is a stunner of a ski town.
Fly into Salzburg - (private and shared transfers, train or car hire).
Bustling pedestrianised town centre
Serious mountain heritage and the annual Hahnenkamm race is a particular highlight
Lower slopes lined with trees
You can cover huge distances in this intermediate friendly resort
Plenty of spas as well as a table dancingly lively apr

ès scene

The beautiful resort, extensive skiing and buzzing town does come at a price however, cold hard moolah

Ski area - 179km

Highest point - 2,000m
After all that, how much does a ski weekend cost when flying from Belfast?
Currently, all of our website pricing is based around London flights, to get an accurate price when flying from Belfast give our ski specialists a call on 01962 587777. Alternatively, you could take a look at our offers and guide pricing to get a cost estimate, the prices shouldn't be too dissimilar to the prices on there for the above resorts. It's a good starting point, however, due to the flight restrictions when flying from Belfast don't be surprised if the actual prices are slightly higher than the London equivalents.