The 5 Best Ski Resorts In Norway
All of our Norwegian ski resorts have developed excellent children's facilities in recent years and are very family-friendly as a result. It has made skiing in Norway particularly suited to families and beginners alike, yet there's plenty to explore for intermediate and advanced skiers as well with ski touring options aplenty and the draw of the deep blue fjords and frozen lakes is hard to resist.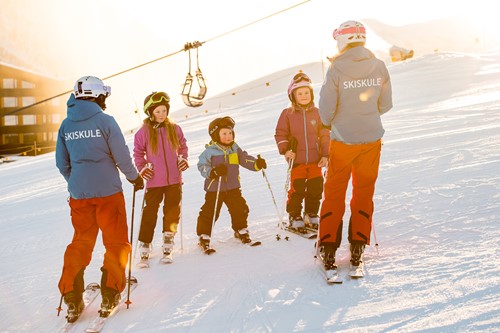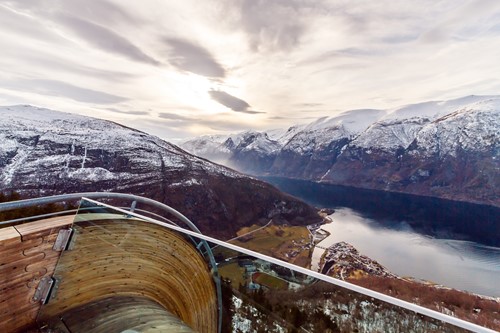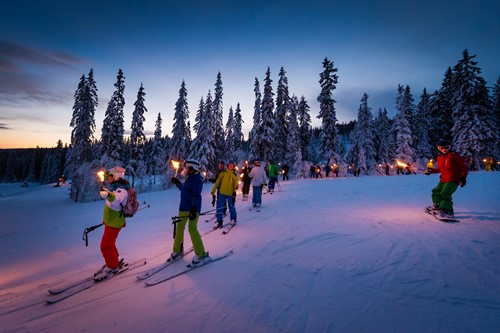 Skiing in Norway
The slopes are generally uncrowded and mellow, ideal for cruising around the mountain all day. more advanced skiers and boarders will find plenty of un-touched off-piste to explore in these family resorts; Hemsedal has bags of lift-served off-piste itineraries and Norefjell can be so quiet mid-week that after fresh snowfall you may find untouched pistes covered in fresh powder.
It's an enticing mix up between wide and gentle beginner slopes with massive emphasis on families and kids ski areas in every Norwegian ski resort and the easy access, lift-served off-piste in abundance. Both ends compliment each other with the powder remaining untouched for longer as it's mainly families in resort and the advanced skiers are kept busy and not crowding the slopes for those learning.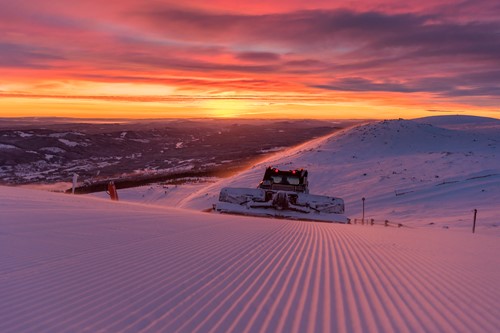 Trysil is Norway's largest ski resort with 75km of slopes, with 4 areas seamlessly linked around one lonely mountain style ski hill. Forest covers the lower slopes with wide open runs above linking the two mountain villages. Varied slopes make the resort suitable for all ski levels and it also has the Sustainable Destination certification showing it's eco credentials.
All of our accommodation in Trysil is ski in, ski out adding a huge amount of convenience to your holiday. The hotels also have some great facilities such as swimming pools, bowling alleys and climbing walls.
Ski area - 75km
No. lifts - 31
Transfer time - 2.5 hours from Oslo
3 day lift pass - £163 per person
Stay at the 4* Radisson Blu for the bowling alley and American diner as well as a climbing wall over the pool - perfect to entertain the kids.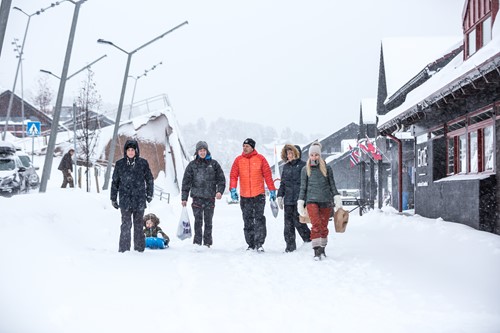 Geilo is geared towards families experiencing Norway's stunning natural beauty, with quiet slopes and gorgeous views. A 2,500 strong year round town sits between the two ski area either side of the river. Focusing on families Geilo has a relaxed learning environment with English speaking ski schools. And for the more adventurous the ski-kiting facilities are world class if you're looking for an adrenaline rush.
Geilo is set in some of Norway's most spectacular scenery, flanked by national parks, the Bergen to Oslo railway is a spectacular way to get to Geilo passing through some of the most beautiful, wild and untouched nature in Norway.
Ski area - 35km
No. lifts - 22
Transfer time - 3.5 hours by train
3 day lift pass - £119 per person
Stay in the Forest Cabins for a real back to nature vibe with wood burning stoves and private saunas.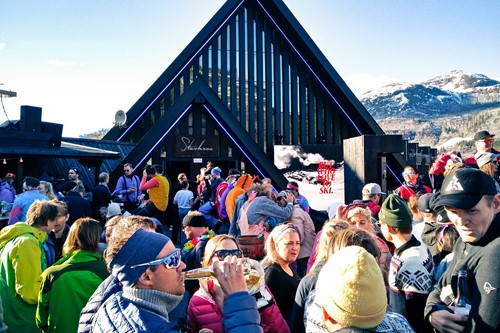 Hemsedal is home to the highest lift-served pistes in Scandinavia and it's heavily wooded mountains are often referred to as the Scandinavian Alps. The 52km of piste connect the ski in, ski out mountain village to the three peaks and main town at the base of the mountain. Intermediates will be in heaven here and the resort also has Norway's largest children's ski area, children under 7 ski free - another bonus.
One of Hemsedals major draws is the easy access off-piste; hire a guide and you can be ploughing through powder all day long. There's also a floodlit snowpark to play in and the aprés is some of the liveliest in the country - especially at the weekends.
Ski area - 53km
No. lifts - 20
Transfer time - 3.5 hours from Oslo, 4 hours by train
3 day lift pass - £137 per person
Stay at the 4* Skarsnuten Hotel perched at the top of the mountain with ski in, ski out access and stunning views down the valley.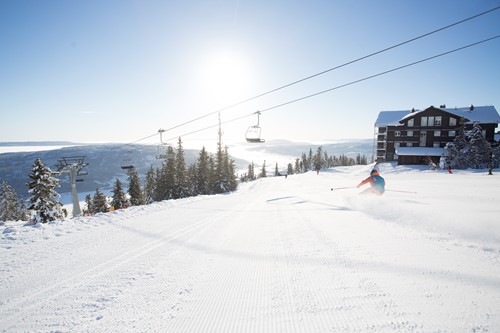 Norefjell hosted the Winter Olympics in 1952 and has the largest vertical drop in Norway, the 1,010m drop takes you from the mountain peak to the frozen lake Krøderen below. The resort is also home to some of the steepest blacks in Norway, though these aren't steep like the French blacks they're still very manageable. 
Even though Norefjell is just two hours from Oslo it remains unbelievably quiet, you may find you have a whole slope to yourself and as with the rest of Norway it is very family friendly with the vast majority of slopes being mellow in gradient. The accommodation is half way up the mountain with ski in, ski out access with a couple of restaurants or cafés to choose from each evening.
Ski area - 25km
No. lifts - 13
Transfer time - 2 hours from Oslo
3 day lift pass - £116 per person
Stay at the 4* Norefjell Ski & Spa for ski in, ski out access and outdoor bubbling hot tubs to watch the sunset from.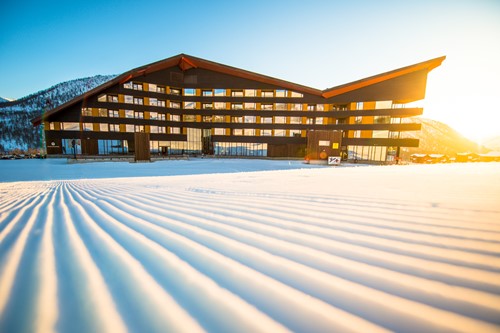 Myrkdalen is perhaps the most interesting ski resort in Norway. Not necessarily for it's family friendly ski in, ski out nature but for its close proximity to Flåm from where you can explore the winter landscapes of the dramatic fjords including the UNESCO listed Nærøyfjord, the narrowest fjord in Norway, and a truly spectacular rail journey on the Flåmsbana railway up the steep cliff paths and frozen waterfalls.
Myrkdalen itself is has a fabulous children's area and great progression terrain through the forests and the ski school is the best around, with ski instructors coming to the resort for training from all over the country. There's also plenty of lift-served off-piste to explore so hire one of the wonderful guides and get busy in powder.
Ski area - 29km
No. lifts - 9
Transfer time - 2 hours from Bergen
3 day lift pass - £87
Stay at the 4* Myrkdalen Hotel at the bottom of the slopes, it's the focal point of the resort with ski lifts either side.
Left wanting more?
For more information check out the resort pages linked above or call our ski specialists on 01962 587777 to talk through any questions you may have. Each hotel page has guide prices for the rough dates you are looking at (including flights and transfers) just use the drop-down menus or you can take a look at our offers pages for more guidance.