The Best Spots To Ski In Courchevel
Courchevel 1850 is one of the most famous ski resorts in the French Alps, if not the world. Heck, even Will and Kate spent their ski holiday here last year. And there is more to it than just its glitz and glam reputation. Courchevel 1850 has some incredible skiing. And with access to the entire 3 Valleys area, there is something for every level of skier.

FOR BEGINNERS

If you're just starting out on your planks, head to the Jardin Alpin. With a drag lift and a gentle, quiet slope – this is a great place for little kids and big kids to nail the basics. Or head up the main bubble lift from La Croisette, Verdons, and ski right back down the huge sweeping green run. With a rolling gradient and wide piste, it's a great spot to practice your turns.

Then get out of the main area by heading up Coqs chair. From here there's a nice winding green run, Loze Est, which brings you back down to 1850 centre.

FOR INTERMEDIATES

If you've skied in Courchevel 1850 before, you're probably heard of the blue runs Biollay and Creux. And for good reason; they're awesome. Biollay has easy access right in the middle of 1850 and you can do a number of laps on it without getting bored. Creux is arguably one of the best runs in the entire Three Valleys, one of the longest as well.

For something a bit different, there is a little-known tree run called Cospilot that brings you down to Courchevel 1550. At the bottom of the Pralongon chair, keep skiing a bit further past the drag lift and you will be brought out onto a leisurely blue run that winds through the trees and away from all the people. It's truly one of our favourites!

FOR THE ADVENTUROUS

For the experienced skier, 1850 does not disappoint. At the top of the mountain are two great black runs: Suisse and Comb des Pylones. Both challenging and stunning runs – and Comb des Pylones often has some of the best snow.

A lesser known favourite is Jean Blanc. If you take the Plantrey chair lift up and head to your right, you'll find an often quiet black run, Jean Blanc, which heads all the way down to Le Praz. Often known to hold the powder as well!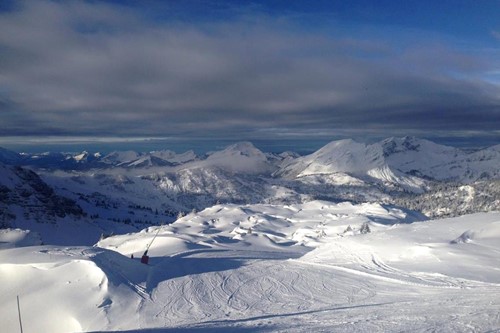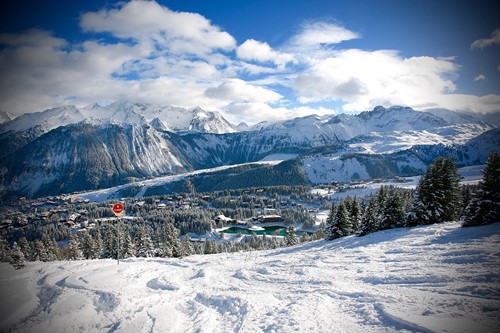 FOR KIDS

For the little ones and not so little ones looking for something a bit more exciting, Courchevel offers a really great Family Park in the centre of 1850. With a skier cross, green and blue jumps, and a variety of boxes, it's a fun place for the kids to try something new. Continue onwards past the Family Park into the Wood Park as well with a few different boxes.

Or if the kids need a break from skiing and a bit of entertainment, ski into Courchevel 1650 and go to "Indiens". Just off of - you guessed it - Indiens piste is a teepee waiting for kids to arrive and drink some hot chocolate (or vin chaud for the big kids). They also have headdresses for the kids to try on, drums to play and archery to try. A fun little pit stop to break up the day.

FOR LEISURELY SKIERS

If you're less interested in tracking the number of miles you skied in the day and more interested in enjoying the stunning surroundings, there are some great spots to stop along the way for a leisurely lunch or hot chocolate break.

Courcheneige is a local's favourite spot to grab a reasonably priced beer in the sun. Head up Biollay chair and ski down the Bellecote piste, on your left you'll come to a restaurant with a large patio. With a huge fire pit outside as well, you won't get cold here. Or head up to the top of the Saulire lift and enjoy the view of the Valley and Mont Blanc at Le Panoramic.

If it's a cold day and you just want to get indoors and cosy up by a fire, Les Peupliers in Le Praz has hands down the best vin chaud (mulled wine) in the valley. With a cosy downstairs filled with sofas and fireplaces, you can warm up and chill out. Careful though! Have more than two of those vin chaud's and skiing back to your chalet may be a bit tricky…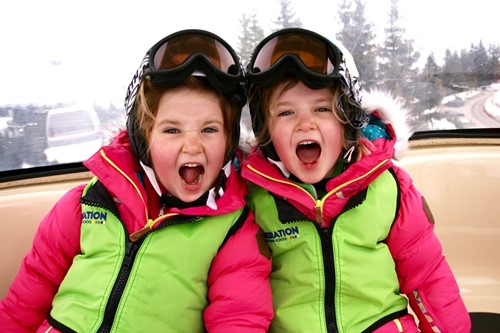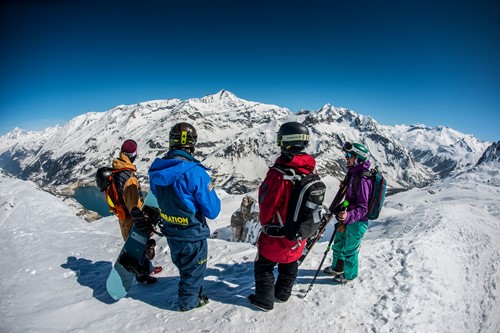 FOR SOMETHING DIFFERENT

Looking to try something different than the usual routes? If you want to explore some lesser known areas or venture off-piste for the first time, or the fiftieth, hire a New Generation guide. Their instructors know 1850 inside and out and they'll show you where they spend their days off. With expert knowledge and a smile, they'll ensure your day on the mountain is one to be remembered.

Whether you're a wobbly first timer, an experienced mountain goat, or a leisurely skier, Courchevel 1850 has something perfect for everyone.

If you're looking to get away to Courchevel or simply learn a little more about the resort give one of our ski specialists a call on01962 587777 and they'll be happy to chat about the area and the best options for you. Alternatively, you can enquire online. 
You may well be lucky enough to be heading out there already, so as always tweet your antics @flexiski, and #flexiski on Instagram to show us yourselves skiing some of these fantastic runs.