Banff V Lake Louise
In March 2018 flexiski sales manager James joined Travel Alberta in experiencing the best of what Alberta has to offer. Sampling first hand the slopes of Banff and Lake Louise and making sure we weren't overlooking anything particularly awesome in resort. It was a tough task (sarcastic/jealous), a task with more than it's fair share of perks. But without further ado I present:
Diary of an avid piste skier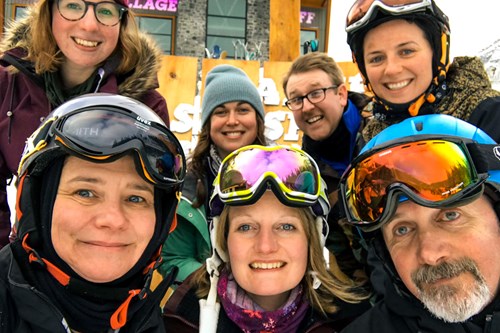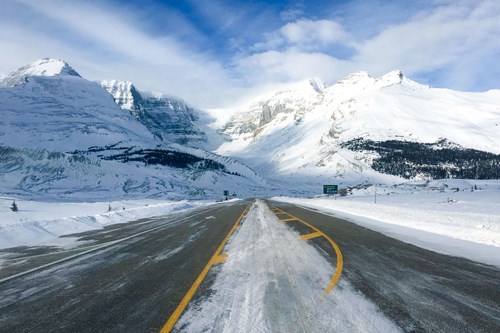 The getting there bit (and James' plane fascination)
In my opinion, the holiday starts at the airport. Checked in, bags dropped, through security and relax!
I haven't flown out of Heathrow for a while but this time with Air Canada we're out of Terminal 2 which really is rather swish. Plenty of restaurant choices and some shops if you're that way inclined. I was lucky enough to be on a work freebie (It's a tough job but someone's got to do it) and was by myself with a group of 10 strangers but all working in the travel industry heading out to Alberta to see what the destination has to offer (again, it's a hard life). We all went for lunch and got chatting, getting to know each other getting so carried away that almost missed our flight, being the very last passengers to board the incredibly comfortable Air Canada 787 Dreamliner.
Air Canada was incredible. Never have I ever had such friendly cabin crew, they really went out of their way to get to know the passengers, have a laugh and some jokes but at all times remain professional. I think a lot of airlines could learn a lot from the amazing Air Canada crew on my flight to Calgary.
Anyway….enough about the airport and flight, let's face it, as nice as they are, they are a means to an end, the end being the incredible Canadian province of Alberta!
The 'when in Calgary' bit
We spent one night in Calgary upon our arrival. I had no idea what to expect, at best I was expecting a frozen, empty city with everyone tucked up at home away from the -15 degrees temperatures, but I was wrong.
-15 Degrees must be a pretty balmy evening for the native Calgarians, the number of people walking around in short skirts, high heels and no jackets amazed me (it was a Saturday night after all!) but these people have hardened to the colder temperatures and are determined to have a good night no matter what mother nature throws at them. We went out for dinner, then drinks, then dancing (although memories of that are rather hazy!) and these Albertans know how to have a good time. I guarantee you'll have a fun night in this snowy city.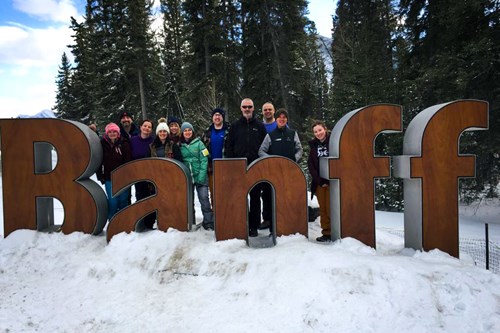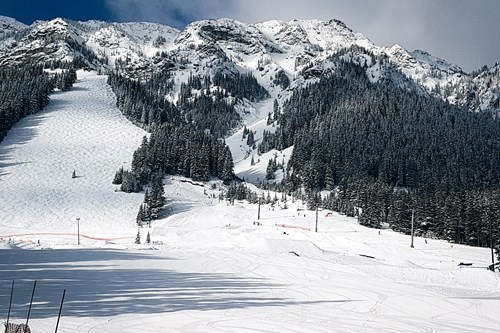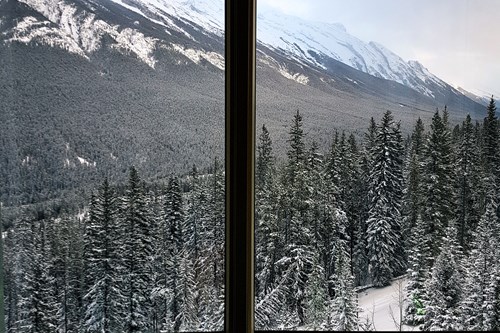 The mighty Banff bit
Waking up Sunday morning bright and early thanks to the 7hr time difference we were all incredibly excited to head up to Banff and get find our ski legs!
The drive took about 90 minutes where we were dropped off in central Banff at the Ski Hub where we collected our lift tickets and ski rentals. This is a great option for anyone staying in Banff as its right there in the centre of town so really convenient. That done, it was time to head up to Sunshine Village!
Sunshine Village (skiing) bit
Sunshine is about a 20 minute shuttle ride from Banff town, a quick and easy journey in comfortable coaches. Forget European ski busses where you're left standing with someone's skis hitting you in the face. These are plush coaches where you load your skis into the underneath luggage compartment and take your seat, never standing. It's a quick, easy, convenient and COMFORTABLE journey.
We were later told that this day was the busiest day of the season so far in Sunshine Village ski area. You wouldn't have known it. We queued for about 2 minutes to get up the main gondola and then never again all day. Slopes were quieter than you'd expect on a normal weekday in Europe but this was a busy Sunday in March and the locals were complaining that there were too many people about. I had absolutely no idea what the next few days would bring.
Skiing in Sunshine is great, a well-varied area for the complete beginner to adrenaline junkie (the same is true of all three ski areas in Banff but more about those later). We had 3 people on the trip who had never even seen a ski boot before so for them this was a fantastic introduction to skiing. The Strawberry chairlift gives great access to some fantastic beginner terrain. My favourite area was up on Goats Eye (very strange name…) but there were plenty of cruisy blue and steeper black slopes all intersecting with one another. You could take the same lift 20 times and take a different line down each time.
Another thing I noticed was that I wasn't cold. Well, I wasn't hot, this is Canada in winter, after all, you can forget about sitting in the sunshine in a t-shirt. I was wearing all the appropriate gear (about 3 or 4 layers), I took hand warmers but didn't need them. If you've thought about heading to Canada for skiing but worry about the temperatures then I highly recommend early-mid March. Cold enough the snow was still crisp and not slushy or icy but not so cold you need to head inside for a hot chocolate every hour to warm up.
After a full day of skiing in Sunshine, we were all completely exhausted (and jetlagged!) so it was time to head back to Banff and think about dinner.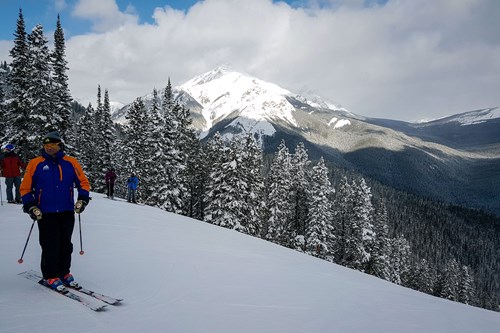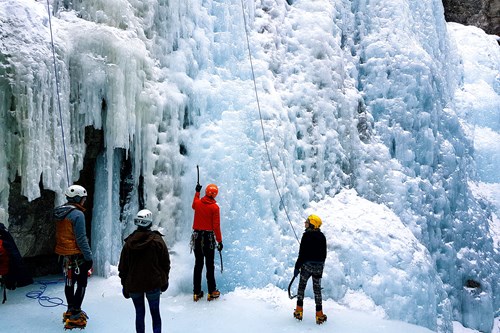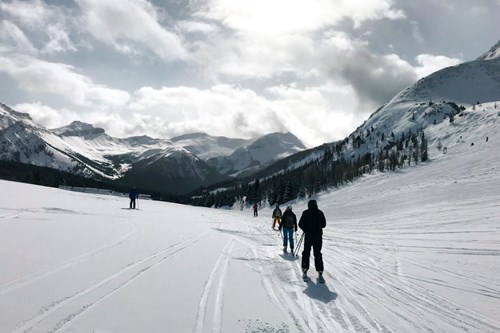 Dinner up the mountain bit
That night we headed up the Banff gondola for dinner and a star gazing experience at the top of Sulphur Mountain, This, I highly recommend! The restaurant is open daily so head up whenever you like but the star gazing experience is only once or twice a week. Check the schedule, pick your day and you won't be disappointed. I have never seen the night sky so clear, a memory I will never forget. Accompanied by some incredible local cuisine, I was in heaven. You cannot go to Banff and not do this, you'd be really missing out.
Mt Norquay (skiing) and canyon walking bit
The next day was split in two, half days skiing at Mt Norquay then a canyon walk through the Albertan wilderness.
Mt Norquay. Wow. Now I know why people thought Sunshine was busy the day before. If there were 100 people on this mountain I would have been surprised. You had the entire slope to yourself all the time. The only other people we met were the lift attendants and ski patrol. It's a small mountain and we pretty much had it to ourselves, covering most of the terrain easily in our half day. This mountain is only 10 minutes from Banff town so the closest and most accessible of your holiday and I'd highly recommend it for at least your first day then a re-visit mid-week. Small but perfectly formed. Great fun to be had.
In the afternoon we headed for our canyon walk at Johnston Canyon. Initially, I struggled to be excited about this. I may be a skier but I'm far from an outdoor person, I like my suburban life and rarely (never) make it out to the countryside for any kind of outdoor pursuits. This was a first for me. Walking for walking's sake, not trying to go anywhere or get somewhere, just walking and appreciating your surroundings. It took me about 5 minutes but when you get down into the Canyon proper, wow. The scenery was incredible. The ice formation around the canyon and the frozen river below. We walked up to a frozen waterfall which looked like something out of a David Attenborough documentary, I never thought I'd see something like this with my own eyes. Highly recommended if you wanted to try something other than skiing when in Banff.
That night another 3 course dinner came and went, completely exhausted from the day's activities I forget what it was and where we ate but I know it was delicious! Bad food does not exist in this part of the world.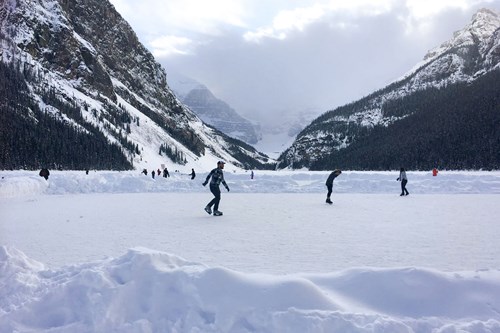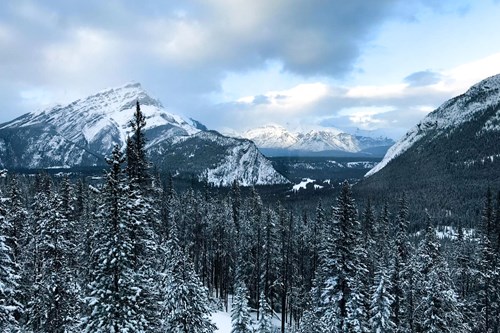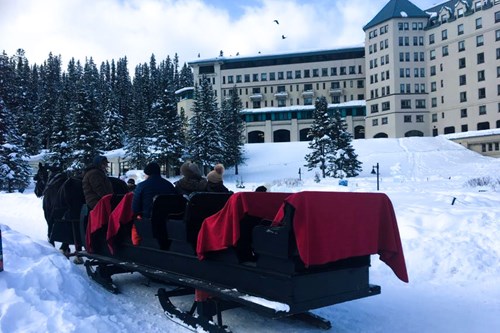 Lake Louise (skiing) bit
The next day was a big one. Lake Louise. I have wanted to ski here for about 10 years, ever since I first heard about this ski area it's been on my bucket list. This one is a 45 minute coach ride out of town. All free and included on your lift pass, the coach ride is a great time to plan your day, look at the trail map and see where you want to go. We knew what we wanted, and wow did we get it.
Lake Louise is great, surprisingly compact but with loads of varied terrain. My absolute highlight was the world cup downhill run. Dangerously fast. I was going way too fast but the adrenaline kept me going. So long as you're a decent intermediate you'll be able to handle this slope, just remember to turn once or twice and you'll control your speed. It really is exhilarating. I would have done it several times but the rest of the group wanted to head to the back bowls, not my thing but I gave it a go. The Back Bowls consisted of acres and acres of double black diamond (really difficult) powder stashes, you could see this is where all the locals liked to ski, looking like pros. Luckily for the more leisurely skier (I include myself here), there is a relatively easy blue run which winds its way down, avoiding the really dangerous stuff.
I can't keep going on and on about how much I loved Lake Louise, I'm gutted we only had one day here because it really is an amazing area. The runs back to the base through the trees were great fun, undulating terrain keeping you on your toes. And then the shorter but quieter slopes of Larch are well worth exploring.
To sum up the story bit
I think if you're in Banff you'll probably ski more in Lake Louise than you expect. The 45 minute journey initially sounds like a bit of a drag but the service is so efficient, it runs like clockwork and is the perfect opportunity for an apres ski nap! Sunshine Mountain will probably be your main hill with a day or so in Norquay but remember to make the journey to Lake Louise, you won't be disappointed.
Our day skiing in Sunshine was our last day in Banff before we journeyed north to see what else Alberta has to offer. But that's a story for another day……