The 10 Biggest Ski Areas In The World
Does size really matter? When it comes to ski areas, many would argue it's critically important. Many would argue it's not, but, if you want to feel like you're really travelling or just like clocking up huge distances on Ski Tracks or Strava then size probably matters to you.
There are complications when it comes to measuring a ski area. The most obvious being how areas are linked. Is the ski area one continuously ski lift linked region or do you have to catch the odd bus to access different parts of the piste map?
Many large regions offer numerous ski areas all on one lift pass which includes the bus to get between them. The Portes du Soleil is one such region, with 650km of pistes it's a meaty ski area with a big draw but as it's not linked completely by ski lifts, for the purpose of this list, we're disqualifying it. We're concentrating on the ski lift linked areas, for lazy skiers (and boarders) if you like. Convenience hunters.
Is It The Size That Counts?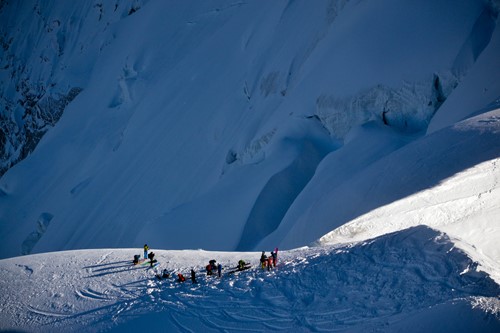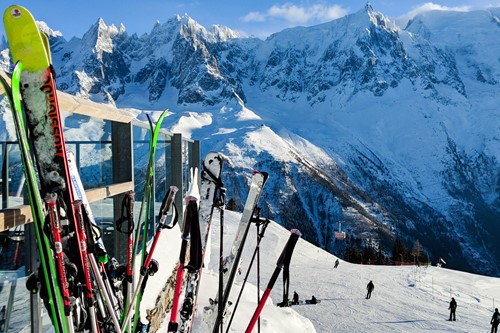 Another complication is the way ski areas are measured. In Europe, pistes are measured by length in kilometres whilst in North America, ski resorts are measured by their skiable area, in acres. Comparing these measurements has its pitfalls.
And thirdly ski resorts tend to embellish the truth. They lie. German journalist and cartographer expert, Christophe Schrahe, discovered this when he started digitally measuring pistes. Ski resorts were claiming wildly inaccurate figures so he set up an independent and worldwide standard of measuring ski areas. Now we can all sleep easy.  That said the standard is not compulsory so some guesswork is still needed.
Resorts were found to be measuring numerous routes down wide pistes or calculating the distance a skier would ski as he snakes down the mountain. All a bit suspect. Large ski areas are something to shout about for a resorts marketing team so it started a sort of arms race for skiing. Thankfully these days it's more about linking different resorts to create mega-regions rather than simply creating additional kilometres out of thin air. 
One mega-resort in the pipeline would be if the link between Zell am See and Saalbach becomes official. There's already a lift and un-official run in one direction so it seems it won't be far off. When it does happen, the area will shake up this list for sure. Alpe d'Huez and Les Deux Alpes is one to watch out for as well, they've been talking about a gondola for years, it would make a combined area of around 475km.
Here are the largest linked (by ski lift) ski areas in the world, at the moment: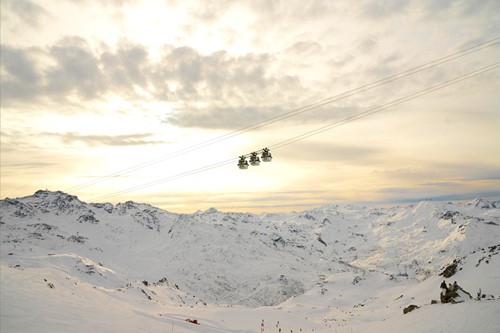 1. Three Valleys (France) - 600km
There's little questioning the largest linked ski area in the world. It's been the biggest for a long time and by a long way. With world-class resorts such as Courchevel, Meribel and Val Thorens, the Three Valleys are about as well known as you can get and rightfully so. Skiing is monumental and there are gems to be discovered all over the place. La Masse, next to Les Menuires is one such gem for any off-piste aficionados; plenty of easy access lines and challenging routes. And St Martin du Bellville is an often overlooked resort but arguably the most charming in the entire area.
Highest point - 3,230m
Season length - December to April
Transfer time - approx. 2 hours 30 minutes from Geneva
3 day lift pass - £167
Stay at:
2. Sella Ronda (Italy) - 433km
This is a funny one as it's not officially claimed as being massive. It's certainly not promoted as such, therefore it may well surprise many. The huge limestone monolith has a 29km route that circles it and numerous resorts linked to it. The likes of Badia, Corvara, Selva, Arabba and Canazei all add up to what many see around 500km, we'd put it at a more modest 433km, either way, it's still at number two. And also happens to be my personal favourite ski region.
Highest point - 3,270m
Season length - December to April
Transfer time - approx. 2 hours 15 minutes from Innsbruck
3 day lift pass - £160
With flexiski, you can stay at the gateway resort of Selva Val Gardena if you want to ski the Sella Ronda ski region. Selva lies at the head of the Val Gardena valley with direct access to the 29km Sella Ronda circuit. 
Stay at the adult only 4* Hotel Acadia on the beginner slopes.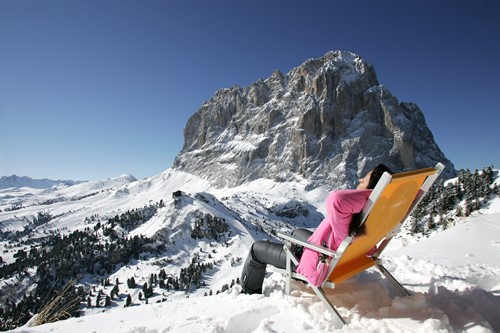 3. Paradiski (France) - 425km
Two already huge ski areas in Les Arcs and La Plagne link up via a double-decker gondola (a novel experience) to create the third largest ski area in the world. Around 20 villages are within the linked region, that's pretty impressive. To compare it to North America's largest ski resort Whistler; Whistler has 8,171 acres of skiable terrain, Paradiski has 35,559 acres according to Christophe Schrahe. Suddenly we're wondering why Whistler is so obsessed with its size.
Highest point - 3,226m
Season length - December to April
Transfer time - approx. 2 hours 45 minutes from Geneva
3 day lift pass - £159
If you're looking for a little bit of luxury whilst you're enjoying this massive ski area, then you might want to take a look at the Chalet des Cascades. Brand new for the 2017-2018 ski season, it's ski in, ski out right in the middle of the piste with a private pool and sauna. Prosecco is served before dinner or there's always locals beers on tap.
4. Four Valleys (Switzerland) - 412km
Switzerland's largest linked ski area with the resort of Verbier taking centre stage within it, though plenty of smaller resorts are encompassed by the area. Verbier's sunny bowl is at the heart of the area full of quiet corners and some pretty spectacular off-piste routes as well as the infamous mogul fields of Tortin.
Highest point - 3,330m
Season length - December to April
Transfer time - approx. 1 hour 45 minutes from Geneva
3 day lift pass - £179
Verbier is the flagship resort for the 4 Valleys. A chalet dominated village heading up a sunny south facing bowl, it's known for serious Swiss glamour but has lively apres, challenging skiing and extensive off-piste to go with it.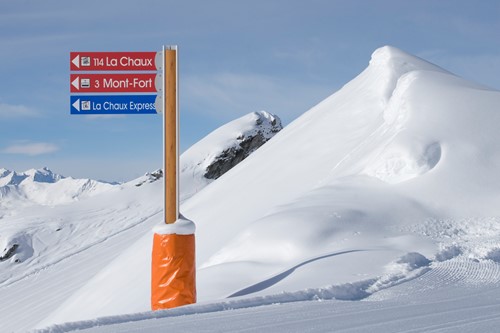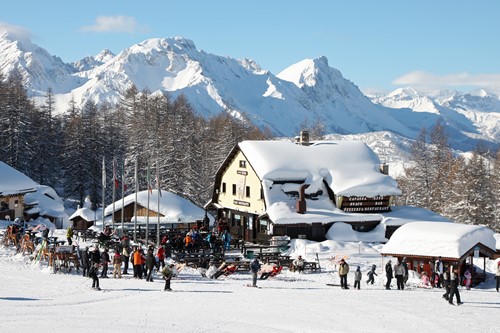 5. Milky Way/Via Lattea (Italy/France) - 400km
The 2006 Winter Olympics were held in the area bringing a significant upgrade to the lift system. The region spans across the border from Italy over to Montgenevre in France. Whether you want to explore the wooded slopes and characterful villages or hit up the party in Sauze d'Oulx, there's a real range of opportunities in the Via Lattea. Though we would suggest keeping a piste map on you at all times, it's pretty much a necessity to navigate the area.
Highest point - 2,825m
Season length - December to April
Transfer time - approx. 2 hours
3 day lift pass - £99
With flexiski, you can stay in the renown party town of Sauze d'Oulx, offering easy access to the ski area. Well, as easy as it gets anyway.
Stay at the surprisingly swanky 3* Hotel K2 in Sauze d'Oulx.
6. The Matterhorn Glacier Paradise (Switzerland/Italy) - 360km
Another cross-border massive ski area, the Matterhorn Glacier Paradise combines the truly gastronomic Zermatt with the more pocket friendly but no less tasty eateries of Cervinia. The area has verticals worthy of the world stage and some of Europe's highest slopes. The majestic Matterhorn Mountain is the focal point, supposedly the inspiration for the shape of a Toblerone chocolate bar, it's certainly the logo in any case. Zermatt poses the more challenging skiing with Cervinia's open bowl offering perfect cruising territory for intermediates.
Highest point - 3,820m
Season length - November to April
Transfer time - approx. 4 hours from Geneva for Zermatt or 1 hour 30 minutes from Turin
3 day lift pass - £206
Flexiski has plenty of options in both Zermatt and Cervinia so it really depends on what you're after on your ski break. Rubbing shoulders with serious mountain heritage or a more chilled out friendly Italian vibe.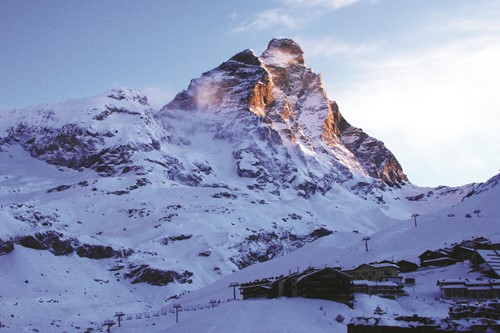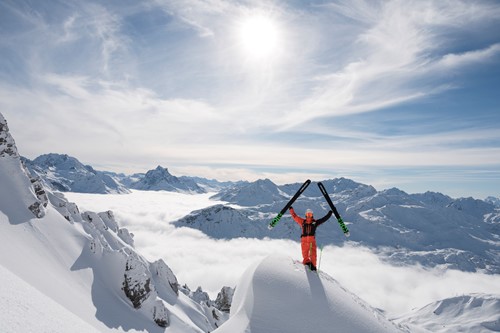 7. The Arlberg (Austria) - 305km piste, 200km ski routes
The newest addition to the world's largest ski areas. In the 2016-17 ski season, the Flexenbahn Gondola linked Stuben to Zurs creating a huge ski area from St Anton through to Warth via Lech. These areas have long been Austrian skiing royalty but have now officially made it as a mega ski area in terms of size as well. The Arlberg has 305km of piste and a further 200km of off-piste routes. We didn't include the routes in the size of the linked area as once you start doing that it opens up an entirely new can of worms, but, it's nice to know they're there none-the-less; areas you can safely explore without a guide.
Highest point - 2,811m
Season length - November to April
Transfer time - approx. 1 hour 15 minutes from Innsbruck
3 day lift pass - £169
The Arlberg opens up some different ski experiences. You have the intermediate friendly and often star-studded Lech for a quieter break or the world renown apres mecca of St Anton with it's challenging local slopes and slopeside bars.
Stay at the Chalet Amalien Haus is right in the centre of St Anton close to all the bars as well as the slopes.
8. Val d'Isere - Tignes (France) - 300km
Formerly known as the Espace Killy ski area, Val d'Isere - Tignes dispensed of the confusing name but still retains its pedigree as one of the best ski destinations in the world, as well as on of the largest. The Arlberg may have moved it down the list last year but there are many die-hard fans of the area and many more who would claim this as the best ski area in the world. It's hard to argue with a resort of Val d'Isere's calibre at the stern and high altitude glacial skiing up from Tignes. There's even a sunken village under the lake to capture your imagination.
Highest point - 3,455m
Season length - November to May
Transfer time - approx. 3 hours from Geneva
3 day lift pass - £138
Val d'Isere is one of the most sought after ski resorts in the world due to its vast terrain and lively apres scene. Its centre is pedestrianised and humble pubs rub shoulders with Michelin Star restaurants, though in general, it's not the cheapest resort in the Alpes. Tignes is slightly more purse friendly, is the high altitude resort and about as snow sure as it gets with the Grand Motte glacier just above.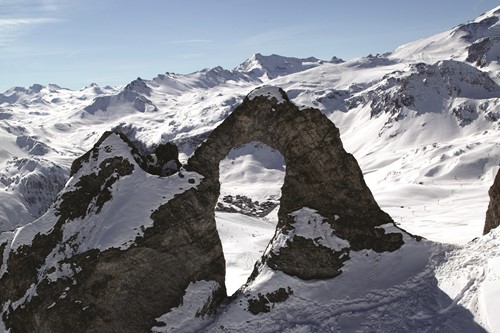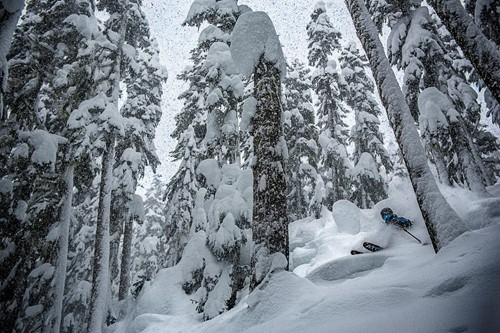 9. & 10. (& 11.) Whistler (Canada), Park City (USA), Big Sky/Yellowstone Club (USA)
This is where the North American resorts come in. It's hard to say which should take the next two spots in the top ten as they're measured in acres rather than kilometres. It seems rather unfair to pose European sanctions on them. That said Christophe Schrahe (mentioned earlier) has measured many resorts and puts little known Big Sky/Yellowstone Club as the biggest at 312km, Park City comes in second with 265km and then Whistler with 254km.
Though Whistler is the largest area/acre wise with 8,171 acres of skiable terrain, and it duly claims the title of North Americas largest ski resort on this merit. Something else to consider would be the fact that Yellowstone resort is a private members club so you can only ski here if you're part of the wealth elite or know someone who is. Should this still count towards the ski area? We're not sure, so, due to these confusing complications, I'm implementing a three way tie at number 9 to complete the top 10 (technically now 11).
Whistler:
Highest point - 2,285m
Season length - November to May
Transfer time - 2 hours 30 minutes from Vancouver
6 day lift pass - £392
Stay at the 4* Delta Whistler Village Suites for easy access to pretty much everything.
There you have it, the 10 (ish) biggest ski areas in the world. Whether size matters or not is up to you. But just in case you are sizeist when it comes to skiing, you can't go wrong with the above resorts. If you still need help choosing which resort may be right for you speak to our ski specialists on 01962 587777 or browse through our offers & packages pages.