Private off-piste guiding in Chamonix
Absolute royalty when it comes to mountaineering, Chamonix was first discovered by two English explorers, William Windham and Richard Pococke, in 1741. Awed by the sheer magnitude of the surrounding scenery, back then they had no idea this place would become a mecca for skiers and snowboarders to tackle some of the most impressive descents in the world. 
With the glacial skiing, long steep descents, couloirs, seracs and crevasses if there was one rule in Chamonix it would be to hire a ski guide. So we've teamed up with the Compagnie des Guides de Chamonix, who are almost as old as Chamonix itself, to create guided off-piste ski breaks in Chamonix.
Guided off-piste ski breaks in Chamonix
Stay in the centrally located chalet - The Loft at 272 for a three-night break in Chamonix with two full days of guided off-piste skiing included.
3 nights catered chalet accommodation
2 full days of guided off-piste skiing with Chamonix ski guides
We can organise flights, transfers and lift pass for you as well as extend dates if you want longer in Chamonix or nearby resorts.
This is an opportunity to explore Chamonix's famed and extensive off-piste terrain, whether you're new to off-piste skiing or have years of backcountry experience. As long as you're a confident piste skier on reds and blacks you will be able to partake in the sessions - your guide will have the final say on which routes are suitable for your level.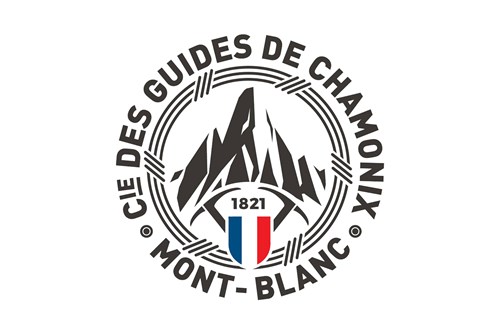 About Chamonix Ski Guides:
Established in 1821 the Chamonix Guides Company is the oldest and largest guides association in the world
240 self-employed mountain guides and leaders in the company
All guides are fully qualified and professionally experienced in all of the off-piste ski routes on offer
Members of the guides company were the first to reach the summit of many of mountains around Chamonix including Mont Blanc by Jacques Balmat
With such a strong mountaineering pedigree the Chamonix ski guides have adapted to the modern society in the form of numerous services to the public such as off-piste skiing, ice climbing and paragliding to name but a few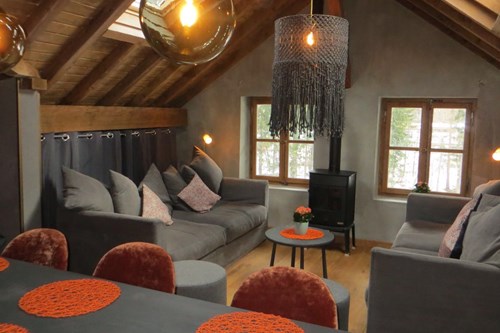 About The Loft at 272:
Central location above the Hotel Gustavia and opposite the train station
Flexiski staffed with catered chalet board; breakfast with hot options, afternoon cakes, pre-dinner canapes with bubbles, 3-course evening meal with wine and cheese
Intimate private chalet with open plan communal areas sleeping max. 7
Can take the whole chalet on sole occupancy or room by room
Chambre Neuf après bar in the base of the hotel - you're too far above to hear it though
Being on the top floor you have fantastic views of the surrounding mountains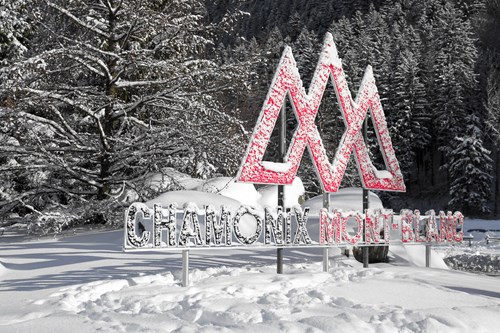 About Chamonix:
Discovered in 1741, Chamonix held the first Winter Olympics in 1924
Freeride capital surrounded by towering peaks and groaning glaciers
Spralling down the valley the resort is definitely not ski in, ski out. The lift system has huge gaps you need to drive between (bus) so you will spend time getting between the main ski area - commuting if you like
A year-round lively town, you can party as hard as you can ski in Chamonix with food from McDonald's through to gastronomic marvelousness
A special place with a buzzing atmosphere, people come from all over the world to ski Chamonix's famed slopes - a ski area where the best lunch comes out of a backpack
What does a guided off-piste flexiski ski break entail?
We will run through FAQ's towards the bottom of the page, but here is a breakdown of the type of ski break you should expect when booking a guided off-piste ski break with flexiski. Everything is fluid and depends on conditions on the day and which routes would be best for the group. Where the best powder is and where is safe to access.
Guided off-piste ski breaks start on a Thursday or Sunday
Day 1:
Fly into Geneva airport and hop on your transfer to Chamonix - it only takes around an hour. We'll organise flights that get you in in time for the evening meet with the Chamonix Guides. If you want to fly in the morning you may be able to grab an afternoon on the slopes to warm up your ski legs.
06:30 pm onwards - evening meet with your guide at the chalet to run through:
Weather forecasts and snow conditions, level and ski experience of the group
Check your personal equipment and that provided by the guide
Select the best possible routes for the following day
07:30 pm - pre-dinner canapes with bubbles followed by your evening meal with wine.
(Depending on flight times the above may change or switch around)
Day 2:
It's go-time the next morning
07:00 am - breakfast in the chalet with hot options
08:30 am - you will be picked up in a private minibus from the chalet for the transfer to the chosen ski area, rough transfer times as follows:
Vallée Blanche - 5 minutes
Argentiere - Les Grands Montets - 15 minutes
Le Tour - Domaine De Balme - 25 minutes
Italy - Courmayeur or Toule Glacier - 35 minutes
09:00 am - get to the ski area
Receive off-piste equipment (avalanche transceivers and harness if necessary)
Take the ski lift up the mountain
First run of the day; the guide will choose somewhere just beside the piste suitable for an initiation or good warm up
10:00 am - the off-piste experience gets well underway. Whether you're after long and steep or more mellow routes between seracs and crevasses, Chamonix has plenty to offer and there's always a great view of the Mont Blanc Massif.
01:00 pm - lunch break
Picnic or lunch in a mountain refuge (you bring your own lunch - the best lunch in Chamonix is from a backpack)
04:15/4:30 pm - transfer back to the chalet at the end of the day
07:30 pm - pre-dinner canapes with bubbles followed by your evening meal with wine (flexible timings, especially if you have the whole chalet)
Day 3:
The same format as yesterday, only you'll be trying out some alternative areas and explore different parts of Chamonix
04:15/04:30 pm - Once you're all off-pisted out it's time for a few celebratory beers and a little story swapping before dinner or after dinner for that matter
If you arrive on a Sunday you have two days with evening meals and your last evening you'll have to eat out (due to the chalet night off)- perhaps time to treat yourself with a slap up meal, you've certainly earned it.
Day 4: 
It's home time. Depending on your flight times you may be able to get a few hours or even an entire day skiing some of Chamonix's pistes (without a guide) before heading to Geneva for your flight home, hopefully with a new found or re-ignited thirst for off-piste skiing.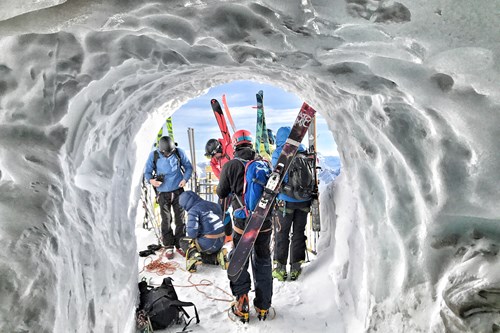 Off-piste ski routes
There's an extensive range of off-piste opportunities to choose from for all kinds of skiers in Chamonix. Heart-stopping couloirs to laid-back powder fields or perfectly spaced tree skiing. Here are a few suggestions from Chamonix Ski Guides: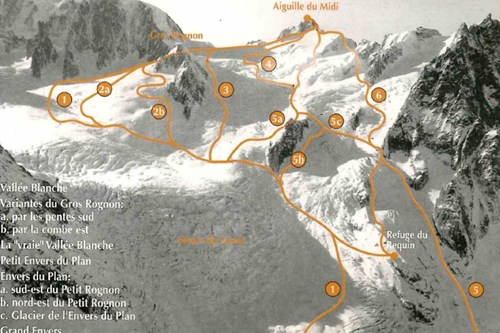 Vallée Blanche
From the Summit of the 'Aiguille du Midi' Alt. 3842m, ski 'THE LEGEND' - A must for every visitor in Chamonix. A view to take your breath away - with the renowned Midi ridge at your feet, the descent beckons you on! Enjoy a 23km glacier ski trip, between seracs & crevasses!
Many different itineraries are possible with your guide, from easy routes on the 'Classic Vallée Blanche' to more challenging routes in the 'Envers du Plan' sector, which is reserved for expert skiers only.
For good skiers, searching for a large vertical drop, you will have the chance to ski down the Vallée Blanche in the morning and do some more off-piste skiing in the Chamonix Valley in the afternoon! For solid legs only.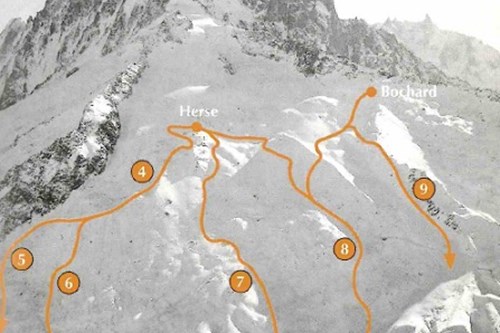 Les Grands Montets
The Bochard gondola and the Herse chairlift serve a vast off-piste domain which is an ideal playground for good skiers, the perfect place to improve ski technics or to have fun when the runs in higher altitude are not in good conditions, eg: 'Combe des Améthystes', 'Triangle de la Herse'...
There are numerous spots to find just off the side of the pistes but due to their easy access, they tend to get tracked out quickly on a powder day. Look a little further afield, however, and you're in for a treat.
From the Bochard lift, a little traversing on skiers right and a short climb up the moraine keeps the hoards away - you have a beautiful bowl to play in, full of drifts, cornices and gullies. Or the Magic Forest on the lower slopes with its bouncy pillow lines and peaceful glades, the ten minute walk deters most and can leave powder un-tracked for days.
Italy – Courmayeur or Glacier de Toule
Courmayeur is a great place to discover. A different atmosphere, different culture and another playground to explore with your guide. There are plenty of off-piste options from the top of the gondola Youla & Arp: long runs, deep couloirs and beautiful faces with Mont Blanc views from the Italian side!
The Toule Glacier is the place to find wide & open spaces, often far from the crowds. The south facing Toule Glacier offers a fantastic run down under the impressive 'Peuterey Ridge': from the 'Pointe Helbronner' the group will reach the 'Col des Flambeaux' and traverse under the 'Grand Flambeau' to the staircase leading down the Italian side, ending their trip at 'Pavillon' mid-station.
Who is this for?
You have to be a good skier to be able to partake in our guided off-piste ski breaks. By that, we mean able to ski confidently on red and black runs and willing to discover the joys of off-piste skiing.
We are running separate trips for initiation level and expert off-piste skiers.
Initiation level: Confident on red and black pisted runs but perhaps haven't tried powder skiing/boarding before or limited experience off-piste
Expert level: Confident and experienced off-piste skier or boarder looking to be shown the best spots within the Mont Blanc ski area.
Where will we go?
You get to select the routes you'd like to try, however, the mountain and the weather will have the final say in what is and what isn't possible. Your guide will look at the conditions and select the best option bearing in mind the groups ability.
When can I go?
We are initially running four short break packages but can also organise guiding outside of these dates dependant on availability. Give our ski specialists a call on 0208 939 0862 for alternative dates or to find out availability and book your spot on one of the following dates:
Sunday 6th January - initiation level - £520 per person
Thursday 24th January - advanced level - £690 per person
Sunday 10th March - advanced level - £520 per person
Thursday 26th March - initiation level - £690 per person
These prices include catered chalet accommodation at The Loft at 272 as well as two days of off-piste ski guiding. If you arrive on a Sunday then only two of the three nights are catered due to the chalet night off on a Tuesday - on the plus side you can treat yourself on your last night or grab a take away and collapse exhausted into bed - the choice is yours.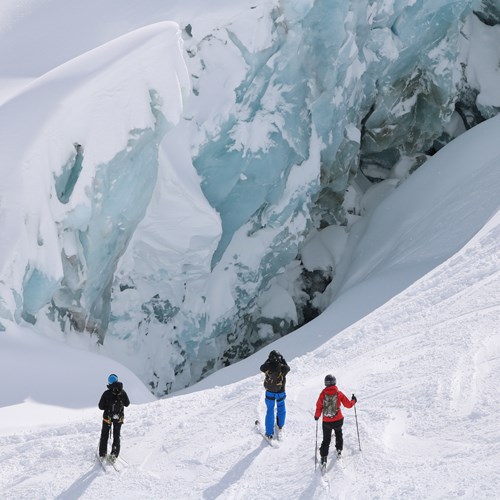 Initiation level
Sunday 06th January & Thursday 26th March
Three nights accommodation with two/three nights catered
Two days Mont Blanc Discovery (Mon, Tues) Initiation level
Discover Off-piste
Improve your techniques
Private minibus – Pick up in Chamonix
Safety equipment included (harness & transceiver)
Guide to visit the chalet Sunday evening to meet & greet.
Must be a confident red/black piste skier
- Sunday £520 pp
- Thursday £690 pp
Expert level
Thursday 24th January & Sunday 10th March
Three nights accommodation with two/three nights catered
Two days Mont Blanc Discovery (Fri, Sat) Advance level
Explore with a guide a new area each day
Glacier expérience
Private minibus – Pick up in Chamonix
Safety equipment included (harness & transceiver)
Guide to visit the chalet Thursday evening to meet & greet.
Must be a confident black piste skier
- Sunday £520 pp
- Thursday £690 pp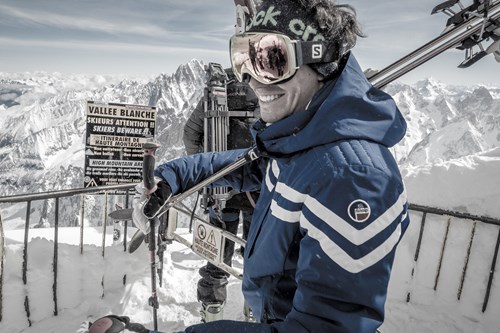 FAQs
We're sure you'll have plenty of questions, we sure did. Below are a few of the main points we wanted to clarify, if you want any further information not listed below just give us a ring on 0208 939 0862, drop us an email at reservations@flexiski.com or enquire online.
What happens if the weather is bad?
Your guide will pick the best possible route for the weather conditions. If the weather is simply too bad to ski then you will get a refund for the off-piste ski guiding.
It wasn't so bad you couldn't ski for a single day last season, so it would be a rarity that you wouldn't get to experience it.
For no additional charge, you can ski in Courmayeur or Chamonix - it's almost never terrible weather in both resorts.
What lift pass do I need?
The Mont Blanc Unlimited pass. it's not much more expensive than the Chamonix local pass and it allows you to ride every lift in Chamonix as well as across the border in Courmayeur, Italy.
2 day lift pass £92 per adult
3 day lift pass £134 per adult
What's included in the price?
Included in the listed prices above is your accommodation in a catered chalet as well as two days off-piste ski guiding with Chamonix Mountain Guides. 
This also includes minibus transfers from the chalet to your ski area of choice - you can ski in Courmayeur as well for no additional charge. Avalanche transceivers and harnesses are also included - if the guides deem it necessary, they will also supply probes and shovels.
What route will I ski?
Whilst no route is guaranteed (due to the mountain and conditions having the final say). Your guide will help you select the best routes possible on the day that will suit your ski/board ability.
With the Mont Blanc Unlimited lift pass, any off-piste route in Chamonix or Courmayeur is technically possible and open to you.
What's the maximum group size?
6 is the maximum group size, however, if you have sole occupancy of the chalet with 7 people we should be able to sort something out to accommodate this - on request.
Do I have to find 5 other people to go with?
No, you can book as a single person if you like or a couple or anything up to seven people. We sell the chalet/off-piste guiding as sole occupancy (6/7 people) or room by room.
If there are less than 4 people booked onto the experience then you will join up with a couple of external skiers/boarders so there's always a good group size.
What equipment is included and what do I need to bring/hire?
The Chamonix Ski Guides will supply avalanche transceivers and harnesses to every skier/boarder. If necessary they will also supply probes and shovels.
You need your normal ski attire, a backpack or somewhere to stash your lunch and all-mountain skis are heavily recommended. They will be available in the vast majority of hire shops but they won't be the basic category. You'll need decent skis to get the most out of the experience. We can help you out selecting the right pair so don't worry.
Other than that, grab a helmet and you're good to go.
Will I be covered by my winter travel insurance?
This depends on your level of cover. You need to check the small print and make sure you are covered for off-piste skiing and not just when you are on the pistes.
If you don't get sufficient cover and do get unlucky it could be a hefty bill coming your way.
Do we ski on the pistes?
In one word - no. You will be skiing off-piste. You may have to cross a piste or use part of a piste to get to/from a particular spot but this is purely an off-piste experience NOT guiding on the pistes.
Can I extend my ski break?
Of course, you can. We tailor-make your ski break for you, so if you want a few extra days on the mountain - your wish is our command. We can organise additional guiding for you or leave you to your own devices, just let us know what you have in mind and we'll be happy to help.
Does the price include lunch?
No, lunch is up to you. You'll most likely have to bring a packed lunch with you as you will be off-piste, though your guide will let you know if you'll likely have somewhere to grab lunch from.
Either way, you'll have to pay for your own lunch.
Why do I need to give a mobile number?
We give your mobile number to the guides so they can contact you if needs be. It's a necessity in case there are any last minute plan changes or unforeseen circumstances.
Also, the chalet team will give you a pre-departure call to make sure everything runs smoothly.
What's the difference between a mountain guide and an instructor?
An instructor is there to teach you, whereas a mountain guide is there to show you the best places to ski/board and make sure you're safe. A guide may well give you pointers and technique tips but they are not there to teach you how to ski. You must be a decent level of skier/boarder to go on this guided off-piste experience.
Do I have to stay in the chalet?
For these particular guided off-piste short break packages, your accommodation will be in chalet The Loft at 272. However, if you want to experience off-piste guiding but stay in a Chamonix hotel, for example, we can organise this for you on a case by case basis. 
The pricing will vary depending on dates and accommodation you are looking at but give our ski specialists a call on 0208 939 0862 and they will help you out.
Can I book alternative dates?
Yes, you can. We can offer short (or long) breaks to Chamonix all season long so as long as the guides are available you can, of course, book alternative dates.
That said the price may vary dependant on your chosen dates.
Do I need to have skied powder/off-piste before?
No, you don't. We are offering two levels of off-piste experience; initiation level is for those who are new to off-piste skiing (though you still have to be a decent skier i.e. very comfortably skiing red and black pistes) and expert level which is for experienced off-piste skiers/riders.
Just bear in mind that the group ability will be equal to that of the weakest skier/boarder so it always pays to be realistic about your abilities.
How do I get to the off-piste routes?
This varies massively and is dependant on the route chosen. You will be mini bused to the ski area and catch the corresponding ski lift up the mountain. Some routes will be accessible from the lift, others will require traversing or hiking and some hikes will be on harnesses for safety reasons. It all depends on the route you take.
You guide will be able to advise on the accessibility of each itinerary and you can make an informed decision from there.
Newsletter signup
Keep up to date with all the latest flexiski news