How To Spend A Long Weekend In Eastern Norway
Take a look at our guide to spending a long weekend in eastern Norway, perfect for skiing and nature enthusiasts alike.
Longing to visit Norway next season but not sure where to start? We've put together a four night, five day itinerary to help you plan your next trip with flexiski. Here, we'll explain how to make the most of what Norway has to offer, from the ski slopes of Myrkdalen to the stunning fjord views of Flåm. Read on to find out more.
Day 1
Arrive in Bergen, and wonder if you're actually in Bergen, after the confusing sign outside the airport. Some call it art, we call it misleading.
The Myrkdalen Hotel will send a bus to collect you from the airport, making an easy transition straight from the airport to your hotel room. The hotel is the hub of Myrkdalen, and the focal point of the resort. All the chair lifts start from the hotel, and all slopes direct back down to it.
Once you've arrived in resort, spend some time wandering the town, and marvelling at the mountain views around you. One of the selling points of Myrkdalen is that it's designed to be as open to nature as possible. The hotel is made with glass walls so that you're pretty much always guaranteed a stunning view, no matter where in the hotel you are.
For dinner, we recommend booking the fondue at Restaurant Nuten Fondue for the evening. You will be provided with both a cheese and meat fondue, with sides of bread, vegetables, a selection of beef, pork and chicken, potato wedges and fries. To ensure you get a table, you will need to book by 2pm the same day. We haven't stopped thinking about that fondue for 4 months now…
Days 2 - 3
Wake up fresh from a sleep in the hotel's comfortable beds, and head down for a buffet breakfast in Restaurant Nuten. Once you can feel your salopettes getting a little tight, it's time to head out and enjoy all the skiing has to offer. One of the great things about the resort is that all the slopes head back to the hotel so if you have any non-skiers in the group, you can all meet for lunch in the hotel's Restaurant Tunet for some hearty Italian food. Fill up on pizza and pasta and head back onto the slopes for an afternoon "earn-your-dinner" skiing.
After a full day of skiing and some après (or some nap-rès) head to Restaurant Nuten for some a la carte dining. Or, if you wanted some pasta after the pizza you had for lunch, head back to Tunet to fill up on more Italian food. From here on, the evening is yours. You could curl up with a good Scandi crime book in the cosy lobby, or book a massage with the hotels reception, or just get that well-deserved early night.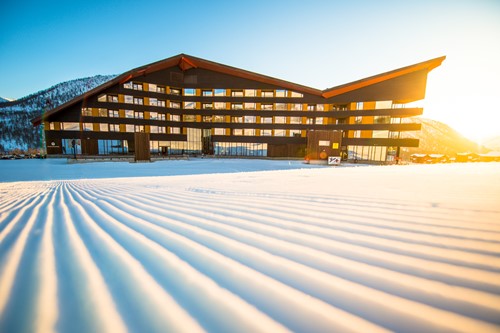 Day 4
As an alternative option to spending the day skiing, you can speak to the hotel reception who can organise a Fjordsafari cruise. They will arrange a transfer to the nearby village of Flåm, where you can marvel at the fjords up close and personal. Fjordsafari will take you on a RIB (Rigid Inflatable Boat) ride down the Aurlandsfjord, and along various different branches attached to the infamous Sognefjord.
Once you've had your fill of the fjords, you can spend some time walking around the charming village. There's also the option to spend some time in Flåm, with an extended stay at the Fretheim or Flamsbrygga hotels. Sample the Viking Plank at Æiger, and taste test their home brewed beers and ciders.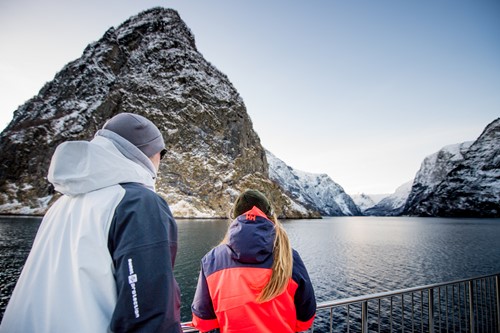 Day 5
We never want the last day of your holiday to end, so why not try something different on your way home. Take the transfer back from Myrkdalen in the morning to Bergen, and spend the day in the colourful seafront city. Head to Bryggen, for the iconic sight of the multicoloured houses along the wharf. Sample seafood in Bergen's Fish Market, or head to the historical landmark of the Bergenhus Fortress. There's plenty to do and see, you'll never want to leave.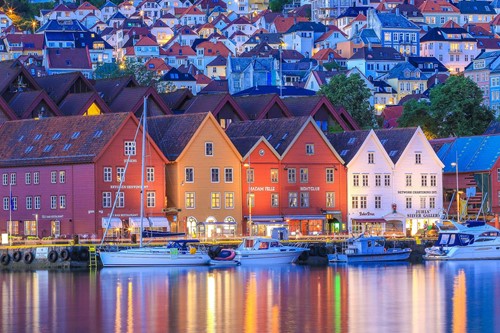 Like the sound of this weekend trip? Have a look at our destination pages of Myrkdalen and Flåm, send in an enquiry or speak to our Ski Sales Specialists on 01962 587777.