5 Reasons Geilo Should Be Top Of Your Ski Bucket List
Here's why you need to be planning a trip to ski in Geilo next season.
A charming historic town; one of the first Norwegian ski resorts, a vibrant atmosphere and two ski areas, each as good as the other. It's no wonder Geilo has been ranked as Norway's Best Ski Resort 2019.  Here's just a few reasons why we adore Geilo, and what you're missing out on by not visiting.
1. Sustainability and snow surety
With climate change being such a hot topic (pun intended) at the moment, this is something that concerns skiers around the world. Many ski resorts around the world are now working on introducing greener solutions and trying to run hotels and resorts on renewable energy. Geilo itself is a certified Sustainable Destination, a certification given to tourist destinations who are making strides in combating the negative effects of tourism.
One reason Geilo has been given this award is the easy access to the resort by train. Geilo is located halfway between Bergen and Oslo, and it's easy to catch a direct train from each destination. Larger airlines such as SAS and British Airways, that will take you to Norway for your weekend skiing, have also pledged to reduce their CO₂ emissions by 25% by 2030, and currently carbon offset just over 40% of all the CO₂ emissions that their planes emit.
Alongside this, Geilo is one of the most snow sure ski resorts to go to, sitting at 60° North, and you are pretty much guaranteed snow from mid-November through to early May. Making Geilo the perfect destination for guilt free power skiing, all day, every day.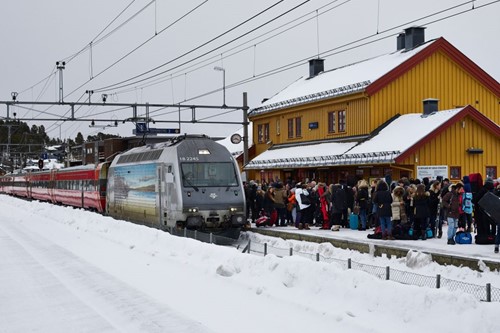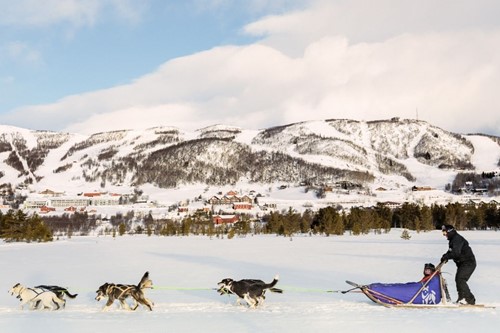 2. The sheer amount of activities to do in Geilo
Whether you accidentally injure yourself attempting that 180° jump, or if you're a non-skier, Geilo is the resort you want to be in. With an eye-watering number of activities on offer, there'll be almost no time to Netflix and chill here. Geilo has all the typical ski resort activities you would find such as sledging, snowshoeing and cross country skiing, but has its own unique twist to really make some special memories.
Geilo has one of the largest cross country areas in Norway, with 220km of terrain to explore. Sledging has its own dedicated track, 1850m long, with custom built sleds that can reach a speed of 70km per hour. Due to the high speed of this particular sled course, there is a minimum age limit of 12 years old. It also includes a number of rarer ski resorts activities such as husky sled rides, hose drawn sleighs, night skiing, fat biking, ice track rally car driving and so many more.
3. Easy links to Bergen, Oslo and Flåm
With the easy access by train to Oslo, Bergen and Flåm, it's one of the better resorts to combine a city and ski break, or a fjord and ski break. With Oslo and Bergen being the largest cities in Norway, there's plenty to see and do. However, it would seem a waste of a trip to Norway and not go and visit a fjord. Flåm is a picturesque village, nestled innermost in the Aurlandsfjord, an arm of the 204 km long, and 1308m deep Sognefjord, Norway's largest fjord. Enjoy a Viking-themed stay in the Flamsbrygga Hotel, enjoy Norwegian delicacies and home-brewed beers at Æiger, and take a Fjord safari to see the historic inlets up close.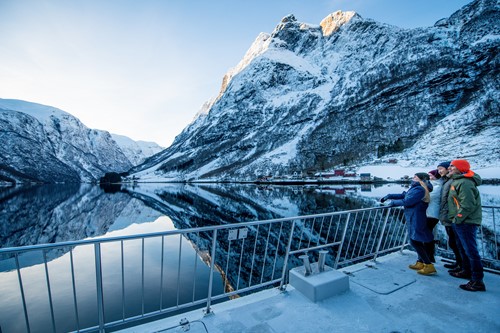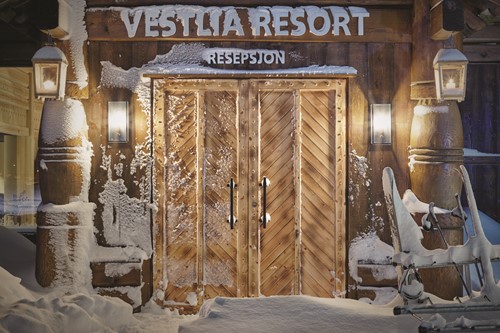 Geilo's largest hotel, this ski in ski out property has a lot to boast about, with many reasons to return year after year. The resort's award winning spa takes up 1000sqm and provides the perfect place to pamper yourself after a hard day skiing. The spa area offers every treatment from facials, to body scrubs, massages and skin care treatments - just as many options as you could shake a ski at.
That's not all that's on offer at the Vestlia though, because the hotel itself features two swimming pools, a cold pool, a children's play area and waterslide, and - for those who still want to feel the burn - a gym. The hotel also boasts fantastic dining options - aiming to provide 'the ultimate food experience'. They use local Norwegian products, and modernise traditional recipes to give a fresh twist to a classic delicacy.
5. Family friendly credentials
With the growing ski markets, the classic family friendly resorts in France and Austria are getting busier and busier. Here, you'll often find that there's not a lot of room left to enjoy family time. In Geilo, this won't be the case. With the British market only just catching on to how great Norwegian skiing is, the slopes are a lot quieter than its French and Austrian counterparts.
Every generation will find something to love at Geilo. The younger children can enjoy the "Trollklubben", a cosy log house in the ski area in Vestlia. Teens can enjoy the terrain parks and test their skills, and the whole family can enjoy the wide range of activities on offer, dining experiences, and the dreamlike beauty of Geilo.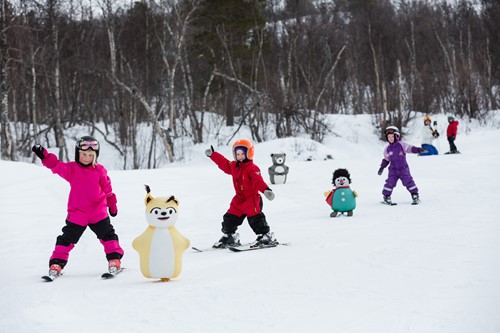 If you want to experience all that Geilo has to offer, check out our destination page, send in an enquiry, or give one of our helpful Ski Sales Specialists a call on 01962 587777.