Ski And Spa Weekends In Norway
After a day out on the slopes, nothing quite compares to a soak in the hot tub and a nice massage. We look at the best spa resorts for your ski break to Norway.
When you think about skiing and relaxing in a spa as ways to pass your time, they are about as opposite as you can get. Yet spas have become an integral part of the ski-break experience - spas provide a tranquil slice of mountain life. There's no better après ski than sinking into a soothing pool to watch the sunset with a glass of cooled champagne in hand. Spa treatments and massages can be a great way to alleviate muscle aches that will inevitably occur from our sporadic time on the slopes. You can even get pre-ski massages to loosen up those lesser used muscles and ligaments so you're less likely to hurt yourself the first time you get out on the mountain this year.
Norway brings the spa idea into the whole ski experience with a slower pace of ski holiday. Leave the 'ski hard, play harder' mantra to other boisterous European destinations. Here, you can holiday at your own pace. Chill out and unwind after your day's skiing, you won't miss the madness of other après scenes when you have snow-lined, bubbling hot pools to go back to each evening.
Some of our favourite spa hotels in Norway (in ski resorts of course):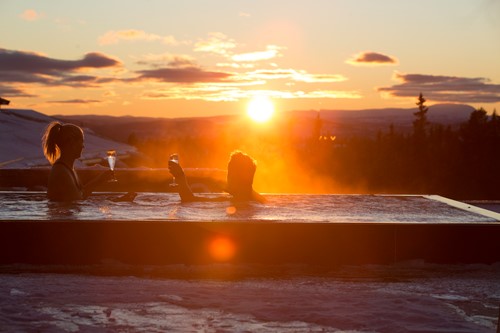 This is our favourite spa hotel in Norway. Sat right in the middle of the piste you have the snow-covered peaks above and the frozen lake below. Outdoor thermal pools let you watch the sunset clutching an ice cold glass of bubbles. Plus there's a private climbing wall and ice skating rink.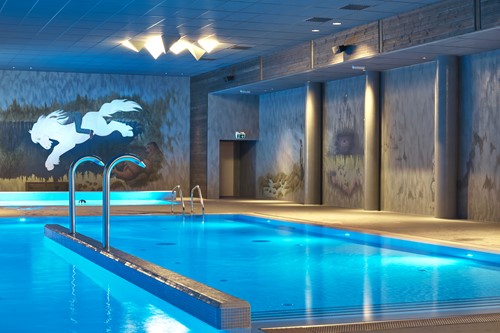 The Vestlia is dripping with style right down to artwork by Edvard Munch on the walls. The pool is designed around a fairytale and the local food will make your mouth water if the wine list doesn't get there first. There's also a waterslide, bowling alley and huge children's soft play area.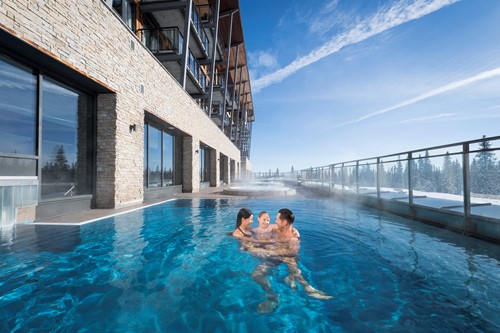 With ski in, ski out access to Norway's largest ski resort, the Radisson Blu Mountain Resort gives you the perfect setting to enjoy Norway's famously quite pistes before returning to indoor and outdoor hot tubs, swimming pool and a whole host of spa treatments. There's even an onsite bakery.
A ski and spa adventure
Ski in some of Norway's most chilled out resorts with heavenly spas to relax in each evening before taking some time to explore Norway's capital city - Oslo.
Spend your days skiing the relaxed slopes of Norefjell and Geilo, there's plenty of non-skiing activities to explore as well. Dog sledding through the winter landscape is definitely a back to nature highlight if you can tear yourselves away from the pistes and spas in this wonderful part of the world.
Norefjell is the closest ski resort to Oslo and Geilo is equal distance from Bergen and Oslo so you could fly into Bergen and drive through the two ski resorts to end your adventure with a couple of nights in Oslo, taking in some spectacular scenery along the way. Or you could start and end your trip in Oslo, it's up to you. All of our ski breaks are completely tailor-made so we can chop and change any aspect you would like.
Spa and ski itinerary:
Fly into Oslo where you will pick up your hire car.
Your morning flight will give you ample time for a leisurely drive to Geilo. It will take you around 3 hours along the national tourist road running beside the Hardangervidda Fjord which is a pretty spectacular sight.
Geilo is a wonderfully family-friendly resort meaning there's plenty of beginner and intermediate terrain to explore as well as some great off-piste for the most adventurous. You'll be staying in the ski in, ski out 4* Vestlia Resort for the next 3 nights, the food is locally sourced and utterly divine, the mountain views are unrivalled and the spa award-winning has numerous pools and even a waterslide.
Just over an hours drive brings you to Norefjell, the closest ski resort to Oslo. The resort has the largest vertical descent in Norway, 1,010 metres from mountain peak to the shores of the frozen lake Kroderen below.
You'll have another 3 nights here staying in the multi-award-winning spa hotel, 4* Norefjell Ski & Spa. On the pistes, you can literally ski through the hotel and you can jump in the outdoor hot tubs to enjoy the sunset with a chilled glass of champagne in hand each evening.
Oslo
It's time to explore Norway's capital city. Drop your car off at the airport, you won't need it in Oslo due to the tram and metro system that can whisk you around town as well as to and from the airport itself.
You'll have two nights in the city, plenty of time to explore the ferries, museums, cathedral, walks along the Aker Brygge waterside and test out some of the great cafés, bars and vibrant music scene on offer. There's Opera, sculpture walks and even urban saunas where you can warm up next to the coals before taking the plunge into the icy fjord, and don't forget the speakeasy at Himkok, maybe you need more time here after all.
Finally, after spas, skiing and urban exploration, you'll be hopping onto your flight home with plenty of hygge in tow.
Prices start from £1,308 per person for an 8-night Norwegian spa and ski adventure including flights, half board accommodation (in the ski resorts) and car hire based on 2 sharing.