The 6 Closest Ski Resorts To Grenoble Airport
Take a look at our pick of the best ski resorts near Grenoble to help you plan your next
 

short ski break.

There's nothing worse than making your way out of the airport on your way to the slopes only to be held up in hours of traffic. It's fair to say that people often underestimate the realities of a three hour plus transfer. Planning a ski break around cheap flights rather than resort location may seem reasonable, but we're here to help you take all factors into consideration. Trust us, an hour saved in transfer time often makes all the difference - especially when it comes to planning a short ski break that doesn't follow the traditional Saturday to Saturday formula. 

Making your way from plane to piste in under three hours is entirely possible when you select flights to Grenoble and one of these incredible French resorts. And, not only do they offer a convenient transportation time, these resorts also hit the spot with ski quality, après ski, and accommodation. 
Skiing near Grenoble
Grenoble really is a transport hub when it comes to skiing in the French alps. Chances are, if you've skied in France more than once you will have made an acquaintance with Grenoble airport. And, with so many of France's most famous ski locations located on Grenoble's doorstep it's no wonder this place is popular. Transfers range from just over an hour to well over three. Luckily, we've put together a list of our favourite ski resorts near Grenoble's Alpes–Isère Airport, to help you benefit from the shortest transfer time possible. 
Our 6 closest ski resorts to Grenoble: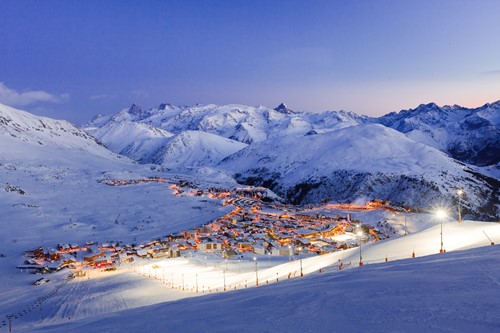 Great for beginners, experts, and everyone in between, Alpe d'Huez ticks a lot of boxes. Not least because the transfer time from Grenoble airport clocks in at just over an hour. With a maximum resort height of 3,300m you can guarantee snow sure conditions and plenty of impressive vantage points.
Best for a top-notch ski area, plain and simple.
Stay at the 5* Daria-I Nor for incredible food right on the slopes of Alpe d'Huez.
Transfer time - 1hr 15mins
Resort height - 1,869m
Highest point - 3,300m
Ski area - 249km
3 day lift pass - £128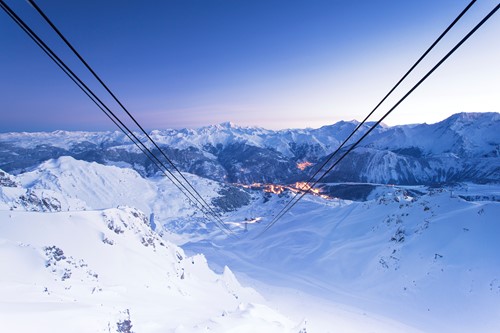 Known as the unofficial capital of Trois Vallées, Courchevel is certainly a well-known resort. No longer just a playground of the rich and famous, a number of more attainable accommodation options are on offer in Courchevel. Located under an hour away by car from Grenoble, you'll be able to make the most of the 600km of piste that make up the Three Valleys in no time at all.
Best for exploring an epic expanse of piste in style.
Stay at the 2* Hotel Courchevel Olympic to experience the best of Courchevel on your doorstep.
Transfer time - 1hr 45mins
Resort height - 1,800m
Highest point - 3,230m
Ski area - 600km
3 day lift pass - £178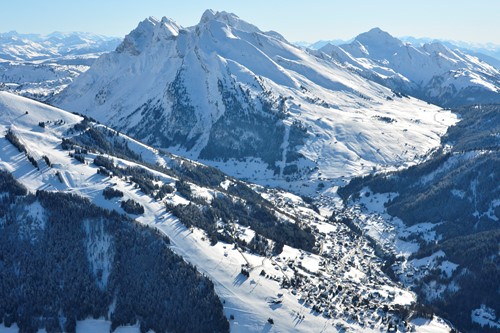 Easily one of the prettiest ski villages in France, it won't take you more than a couple of hours to make your way to La Clusaz. And, while the 125km ski area doesn't quite compare size-wise to the pistes of the Three Valleys, La Clusaz's cruisy, tree-lined blue slopes are sure to impress. 
Best for a laid-back traditional village feel.
Stay at the 3* Hotel Alpen Roc for a central location and a roaring fire.
Transfer time - 1hr 45mins
Resort height - 1,100m
Highest point - 2,477m
Ski area - 125km
3 day lift pass - £103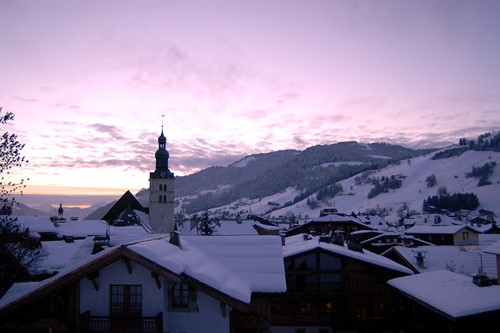 A popular resort with the French locals, Megeve provides a different vibe entirely. With breathtaking views of Mont Blanc, the slopes of Megeve offer more than most resorts for non-skiers. Sat just one hour and 45 minutes away from Grenoble, Megeve is well suited to short break stays for foodies and families. 
Best for sampling the local cuisine in a charming setting.
Stay at the 3* Hotel Royal Rochebrune for family-friendly comfort.
Transfer time - 1hr 45mins
Resort height - 1,100m
Highest point - 2,355m
Ski area - 325km
3 day lift pass - £131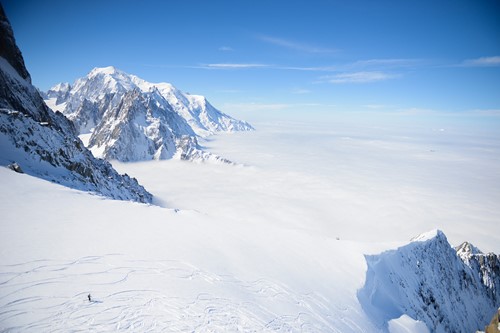 At just over two hours away from Grenoble, we reckon Chamonix is worth a little extra time. Not one for those of you unwilling to hop on a ski bus, Chamonix requires a bit of in-resort transport. However, the ski buses run incredibly smoothly and what Chamonix lacks in convenience it makes up for in impressive intermediate and expert terrain.
Best for into-the-evening après ski.
Stay at the 4* Refuge des Aiglons for easy piste access and spectacular views.
Transfer time - 2hr 15mins
Resort height - 1,035m
Highest point - 3,840m
Ski area - 115km
3 day lift pass - £141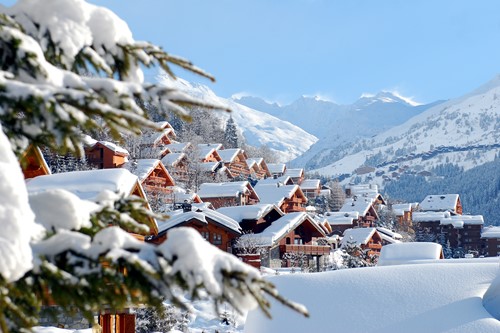 It's worth noting here that more than one member of the flexiski team regards Meribel as their favourite resort. This pretty town is part of the Three Valleys ski area, so you'll have plenty of terrain to explore during your time here. Not only this, but Meribel offers some of the best après in Europe and ample opportunities for foodies. 
Best for easy access to 600km of pistes and a lively après scene.
Stay at the 3* Hotel L'Eterlou for an outdoor pool and hot tub.
Transfer time - 2hr 15mins
Resort height - 1,700m
Highest point - 3,230m
Ski area - 600km
3 day lift pass - £178
If you fancy any of our ski resorts near Grenoble or simply want to find out more, give our ski specialists a call on 01962 587777. They can run through the best options for you and your dates.
Or, if you can't find what you're looking for above take a look at the beautiful ski resorts near Innsbruck.
With these 6 ski resorts near Grenoble, you could be ditching the office for the mountains in no time at all: